Delve into the heart of Portofino life
Splendido is one of the most enchanting hotels in Portofino. Gaze across the rugged coastline, enjoying prime position above the bay. Delve into the spirit of irresistible glamour at the finest of all Italy resorts as you embrace all that's best about the Ligurian Riviera.
Experience Italian dining at its best. Start the day with an invigorating motorboat ride or a soak in the saltwater swimming pool. End it with a candlelit dinner and a starlight stroll through the lush flower gardens.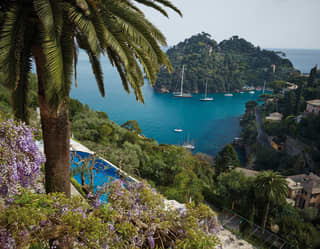 Our View
From our prime location in the protected park of Portofino, the views of Tigullio and beyond embrace you.

Suspended in time among historic architecture, admire the sea views and verdant countryside that stretch out across terraces, balconies and patios, offering a contemplative haven of privacy.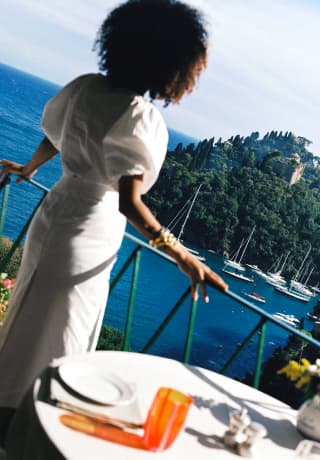 Enduring Allure
Enduring Allure
In our storied past, luminaries called this place home: the likes of Winston Churchill, Maria Callas, Grace Kelly, Charlie Chaplin and Walt Disney stayed and embraced its magic. Today, our guests continue this legacy of culture.
Royals, Hollywood celebrities and discerning individuals from around the world choose to spend special occasions with us at Splendido. In both past, present and future, this is a place to celebrate and share in delight.
Enduring Allure
Enduring Allure
Splendido is inseparable from Portofino, and, in being so, is an emblem of the enduring allure of this captivating seaside town.
At our home in the hills, our historic connection to culture is palpable. The style of the tastemakers and icons who have through our hallways and enjoyed memorable meals on the iconic terrace lives on.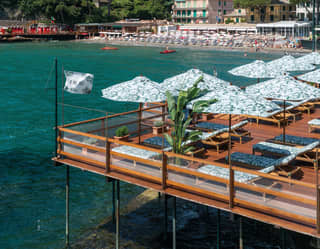 A Place For You in Paradise
A stay in Portofino calls for a day at the beach.
The secluded Bagni Fiore beach is nestled into the Bay of Paraggi. Soak up the sun, take a refreshing dip in the emerald waters and make the most of this exclusive spot.
Reserve your place in paradise with our concierge—you won't want to miss these views.
Please note: This service is available at an additional cost. Advanced reservation required.
Learn more
A
At a glance
ACCOMMODATION 61 rooms and suites
DINING Two restaurants, cocktail bar
FEATURES Wellness Centre, Jardin des Rêves spa by Dior, heated outdoor pool, children's club and gym
ACTIVITIES Tennis court, watersports and boat excursions
LOCATION 45km from Genoa Airport, courtesy shuttle to the piazzetta
Crafting of Splendido
Behind the scenes of our hotel's new chapter
Meet Gio Bressana
Step into Gio Bressana's distinctive world of beautiful frescoes. From maestro Caravaggio to contemporary music, sources of inspiration are aplenty for the painter, who adds splendid hues of blue, ochre yellow and terracotta to the walls and furniture of the hotel's interiors.
Meet Martin Brudnizki
For the first phase of our renovation, meet Martin Brudnizki, the mastermind behind our new interior. Alike a painter, he reimagines Splendido's accommodations with a balanced colour palette, terrazzo pieces and midollino weave, where headboard fabric and classic furniture tell the vivid stories of Portofino.
Explore
Every step brings a new discovery
Swimming Pool
An Alfresco Oasis
Live like silver-screen royalty at our glamorous heated saltwater pool. Hemmed by lush gardens, it commands sensational views of the coast.
La Terrazza Restaurant and Bar
Lavish and Ligurian
Savour authentic Italian classics and Ligurian specialities, whether seated on the scenic terrace or in the elegant dining room.
Pool Grill Restaurant
Deeply Delicious
Unwind beside the pool and choose from the tempting buffet, or a perfectly crisped made-to-order pizza.
Jardin des Rêves
Dior Spa
Visit our verdant tiered flower gardens and discover our new wellness experience in collaboration with Dior.
Wellness Centre
Bodily Bliss
Relax and unwind in our indulgent spa. We offer a full range of massages, body treatments and beauty services.
Tennis Court
Perfect Your Serve
Our all-purpose courts boast a stunning hillside setting. Challenge your partner to a friendly game, or opt for a lesson with an English-speaking coach.
DaV Mare
Splendido Mare
Fresh, local and delicious: DaV Mare combines authentic recipes, local ingredients and modern culinary flair for a truly unique dining experience. The ideal accompaniment to Portofino's picturesque harbour views.
Gelateria San Giorgio
Splendido Mare
Sink into a sunny spot in the piazzetta as you indulge with a classic ice-cream cone or cooling Italian gelato.
Portofino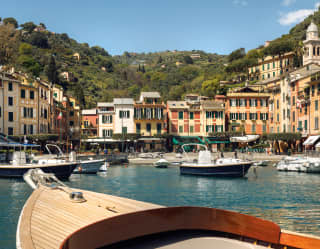 Complimentary Shuttle Service
Whether staying at Splendido or Splendido Mare, guests can enjoy the facilities of both hotels. A complimentary shuttle service runs between both properties so that you can experience the best of both worlds.
C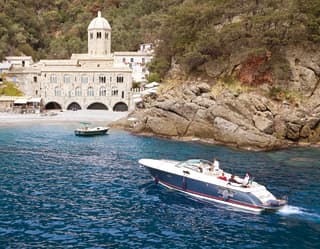 Motor boat
There is a rich air of nautical adventure in Portofino that calls you out to conquer the waves. Our spacious and luxurious private motorboat, Chris-Craft Corsair 36, is the perfect choice for up to eight guests.
Available for excursions around the Gulf of Tigullio, it can be rented for half a day or a full day.
M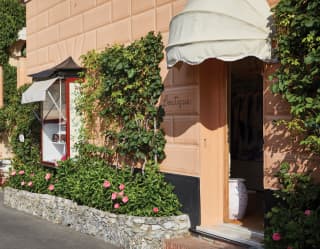 Boutique
Our boutique offers superbly crafted clothing, accessories, jewellery and souvenirs for discerning customers. All of our products are hand-picked or exclusively designed for the hotel.
The signature collection features a beautiful and delicate wisteria pattern, inspired by the flowers that grow in our own gardens.
B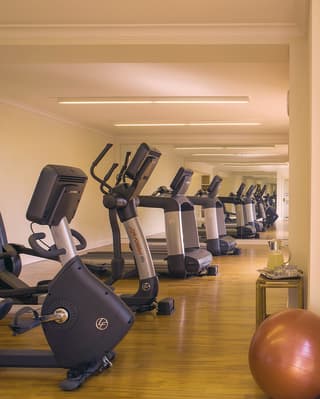 Fitness Centre
The Fitness Centre at Splendido has all the latest exercise equipment, with a personal trainer available on request. Hardwood floors and sea views through the spectacular glass wall are sure to keep you motivated.
If you prefer to workout in your room or outdoors, all our guests enjoy access to virtual coaching on the MyWellness App by Technogym. You can also request the Technogym training kit at reception.
Reservations required. Available for a maximum of one hour per day, per person.