Discover Portofino
SPLENDIDO, A BELMOND HOTEL, PORTOFINOSalita Baratta 16, 16034 Portofino, Genoa, Italy
Portofino, Italy radiates understated Italian sophistication. This traditional Ligurian fishing village retains an unspoiled, old-world charm. Pretty pink and yellow houses border narrow, winding roads. Sailboats and private yachts bob around the busy harbour. Surrounding the bay are scenes of staggering natural beauty.

Rising high above it all is our iconic resort, Splendido. Tucked among lush tropical gardens, the hotel enjoys spectacular views across the shimmering Ligurian Sea–even more enchanting by moonlight. From up here in the hills, you'll be perfectly placed to savour the spirit of Portofino.
Splendido
Salita Baratta 16, 16034 Portofino, Genoa, Italy
Splendido is within easy reach. You'll find us...
a 20-minute walk from Portofino Marina
a 45-minute drive from Genoa International Airport (GOA)
a 10- to 15-minute drive from Santa Margherita Ligure or Rapallo Railway Station
Open in Google Maps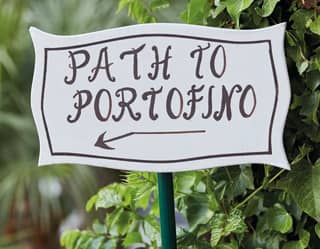 Courtesy Shuttle Bus
We provide a shuttle service for our guests between Splendido and Splendido Mare. The journey by private minibus takes a matter of minutes, or can be covered in a 10-minute stroll. If you opt for the drive, this service is available on request from our concierge.
C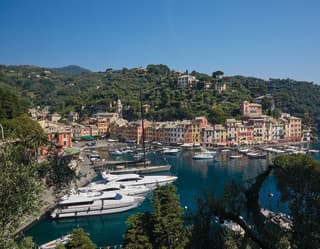 Destination Guide: Unlock Portofino
"Italy is a dream that keeps returning for the rest of your life", wrote the Russian poet Anna Akhmatova. An ardent lover of Italy (and a muse of the painter Modigliani herself), she perfectly captures the mesmerising, sensual experience of this most celebrated country. To experience the full effect of Italy's magic, discover Portofino.
D
Concierge Recommendations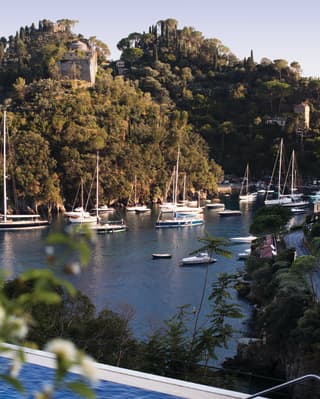 Grand Tour
Relive the days of the legendary Grand Tour over seven unforgettable nights with Belmond. Tailor your getaway with a stay in two our more of our hotels in Italy, Spain and Portugal. We'll be with you across your favourite destinations to recommend unforgettable experiences at every step along the way.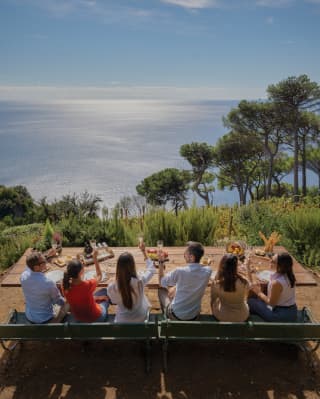 Olive Oil Tasting
The warm temperate climate of Portofino is perfect for the production of Green Gold Olive Oil. Several exceptional varieties are created here and you'll have the chance to sample the very best paired with locally made focaccia and bread. It's a fascinating way to enjoy a taste of Portofino.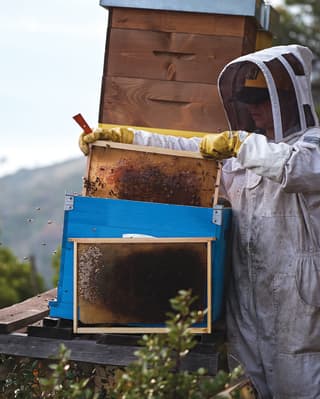 Ecofarm in Portofino
Located on the beautiful Portofino peninsula is La Portofinese Estate. A group of passionate locals restored the abandoned land here, and now run it as a sustainable farm. Spend a day exploring the apiary, honey lab and hop plantation as you discover everything that makes Portofino irresistible.