Where Renaissance spirit meets modern indulgence
Surrounded by lush trees and terraced gardens with views down to Florence, our location is hard to beat. Step inside and experience the beauty of a Renaissance monastery that is as much a part of Italy's culture as the country's greatest cathedrals and galleries.
Today, Villa San Michele is recognised as one of the country's finest small boutique hotels with a selection of 42 breathtaking rooms and suites. Stroll in the Italian gardens, bursting with lemon trees and fragrant roses, and savour superb Tuscan cuisine on the alfresco loggia as if in a private home.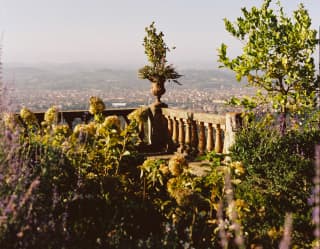 Our Hillside Sanctuary
Enjoy the best of both worlds at Villa San Michele, with sumptuous privacy within Florence's countryside while remaining a stone's throw of the vibrant city. Hop on our courtesy shuttle to arrive in the centre within fifteen minutes, or stroll through scenic Fiesole, with its olive groves and shaded woodland.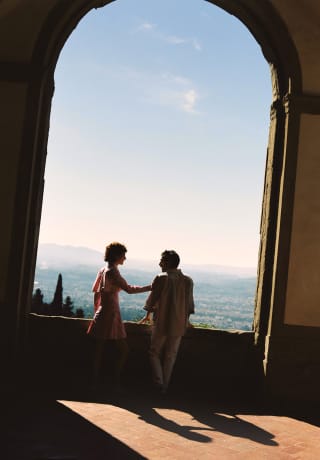 Explore
Every step brings a new discovery
La Loggia
Masterful Menus
From daring dishes to tempting tasting menus, enjoy an exquisite feast. Sensational views are framed by the monastery's arches.
Ristorante San Michele
Captivating Gastronomy
Experience lunch like never before. Go back to the source with each bite of this deliciously twisted Tuscan gastronomy. 
Bar San Michele
Sip and Savour
Indulge in masterfully prepared cocktails overlooking Florence or in the cosy embrace of the small cloister.
San Michele Grill
Delicious Bites
Take a seat by the glimmering pool and enjoy a selection of classic Italian dishes. Views of Florence stretch out below.
Fitness Centre
Stay Active
Our panoramic gym offers state-of-the-art equipment, free weights and cardio machines to help you maintain your fitness regimen.
Swimming Pool
An Alfresco Oasis
Set on a grassy plateau above the gardens, our shining pool is the best place to unwind with stunning views across the Arno Valley.
Florence
Gardens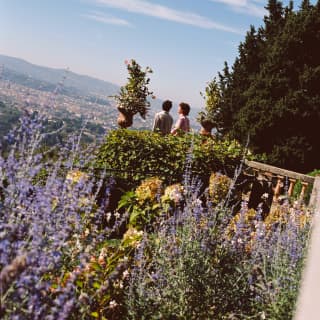 Gardens
As you arrive at our paradise, rows of evergreen cypress trees line your path. Once nurtured by Franciscan monks, the immaculate 15th-century gardens at Villa San Michele include a large wooded park and terraced lawns. Here you'll find our 200-year-old wisteria, the only one in Florence to bloom twice a year.
Join us for great lawn picnics and al-fresco events. Or wander along the stunning topiary, where the simple beauty of hillside living to bloom into focus.
Leonardo Woodland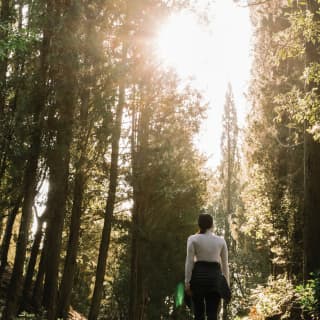 Leonardo Woodland
Explore our 2.5 hectare woodland and the historical path leading to Monte Ceceri. For centuries, this woodland was a place of peace and inspiration for the monks who originally inhabited Villa San Michele, and at the end of the 15th century, it was from here that Leonardo da Vinci tested his flying machine.
Follow the trails around the wood and discover our peaceful vegetable garden, a yoga and meditation garden in front of the old chapel of San Francesco, and much more.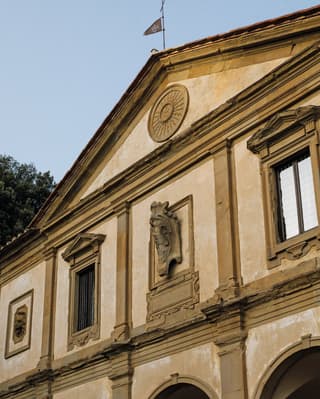 Whether it's our façade designed by Michelangelo or our woodlands where Leonardo da Vinci tested his flying machines, our hotel is alive with the spirit of the Renaissance.
Strolling though our 16th-century monastery, marvel at the ancient frescoes, vaulted ceilings and characterful cloisters and be enveloped by storied history at every turn.
Learn more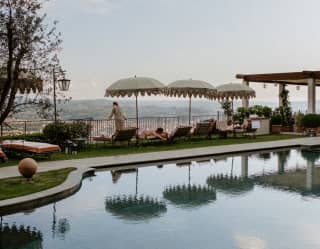 Swimming Pool
Enjoy magnificent views across the Arno Valley and Florence from the panoramic heated swimming pool. Situated on a grassy plateau above the gardens, reached by a winding path, it's the perfect spot to daydream.
S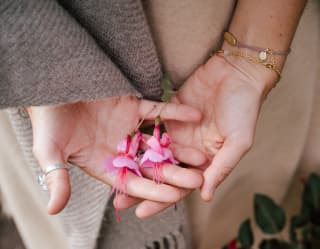 Salus Regina Wellness Suite
Unwind in peerless Renaissance style at Salus Regina. This intimate suite is the perfect place to relax.
Choose from a selection of massages and wellness treatments, offered by experts. Upon request you can also arrange yoga sessions, as well as make-up and hairdressing services.
Salus Regina Wellness Suite
Thank you for your interest in Belmond.
Prefer to talk? You can call us on +39 055 5678 200
S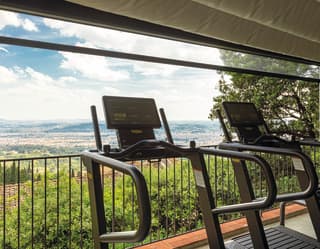 Fitness
Our panoramic gym offers state-of-the-art equipment, including free weights and cardio machines, plus stunning views down to Florence.
Personal training, yoga and pilates can also be arranged. Or choose to stay healthy while exploring with guided hikes or scenic bike rides through the Fiesole hills.
If you prefer to workout in your room or outdoors, all our guests enjoy access to virtual coaching on the MyWellness App by Technogym. You can also request the Technogym training kit at reception.
F
See more of Europe with Belmond
Journey between Castello di Casole near Siena and Villa San Michele for the ultimate Tuscan adventure. Or, depart from or arrive in Florence on the most famous train in the world, the Venice Simplon-Orient-Express.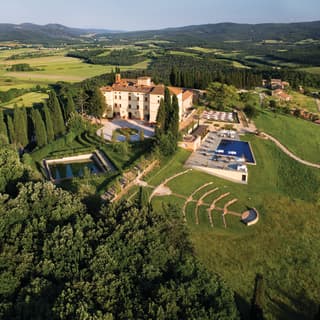 Tuscany, Italy
Castello di Casole
Step inside and discover modern indulgence in an ancient castle, surrounded by rolling hills and sprawling vineyards
Learn more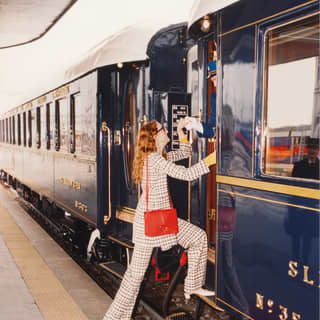 A legendary journey
Florence to Paris
Travel between Florence and Paris aboard the Venice Simplon-Orient-Express, our iconic Art Deco train.
Venice Simplon-Orient-Express