Bristol & Brunel's ss Great Britain by steam
Set the course for adventure aboard the Belmond British Pullman train. Savour the pioneering spirit as you head to Bristol and Brunel's majestic ss Great Britain, once the largest ship in the world.
A special steam-hauled departure will add extra vintage magic to your great day out.
On the outward journey to the West Country a delicious brunch is served in your beautiful wood-panelled carriage. Interiors are resplendent with intricate marquetry and art deco features.
Your table is set with pristine white linen, bespoke china and sparkling cut glassware, complementing the gastronomic treats on offer. Sit back and relax as liveried stewards take care of you. Marvel at the changing views through your picture window and listen to the evocative chug of the steam engine.
Arriving at your destination you will be met by guides and coaches for the transfer to the ss Great Britain in Bristol's harbour.
Return to the train after your visit and enjoy a champagne reception. Look forward to the culinary delights of a four-course dinner served with our sommelier's selection of wine.
Few things are as quintessentially British as a day trip by rail. A steam-hauled excursion aboard Belmond British Pullman makes the journey as magical as the destination.
Includes
Round-trip travel aboard the Belmond British Pullman luxury train
Steam locomotive
Welcome sparkling Bellini
Fine-dining silver service
Delicious three-course brunch on the outward journey
Morning tea and coffee
Visit to the ss Great Britain, including coach transfers and admission
Champagne reception back on board
Sumptuous four-course dinner: British seasonal table d'hôte menu including Great British cheeseboard, biscuits and chutneys
Half a bottle of wine per person
Coffee, tea and petits fours
ss Great Britain
Hailed as "the ship that changed the world", ss Great Britain was designed and built by the famous engineer Isambard Kingdom Brunel. At its launch in 1843 the magnificent vessel was the largest ship in the world. As the first screw-propelled, iron-hulled steamship to cross the ocean it revolutionising shipping.
During its lifetime it sailed around the world 32 times, taking passengers from England to New York, Australia and South America. Today, restored to glory, it provides a fascinating insight into life at sea in the 19th century, complete with recreated sights, sounds and smells.
THE STEAM ENGINE
During 2016, Belmond British Pullman is delighted to be working with the remarkable "Tornado" locomotive on its steam-hauled excursions.
In 1990, a charitable trust was formed with an extraordinary ambition: to build a brand-new Peppercorn A1 Pacific steam locomotive from scratch, as no working example survived. After 19 years of incredible effort, in 2008, No 60163 Tornado moved under its own steam for the first time. Fitted with additional water capacity and the latest safety electronics, the engine is fully equipped for today's mainline railway.

Loading your journey results
Please Note
All timings shown on this website are for your guidance only—a confirmed schedule will be supplied with your travel documents
Please ensure you bring your travel documents on the day of your journey
If booking up to eight (8) weeks prior to departure, a non-refundable 15% deposit is required to secure your seats
Payment is required in full if you are booking within eight (8) weeks of travel
Due to the antique nature of steam locomotion, occasionally the engines can fail. Should this occur, we reserve the right to exchange the locomotive for a diesel engine. Guests will be reimbursed the difference of a standard excursion
Full payment and cancellation details can be found in our Terms and Conditions page >
Our Best Available rate is subject to availability at time of booking, it is not applicable for parties of 12 or more. Please contact tcgroupsuk@belmond.com for group pricing.

Loading other journeys you may like
Need some help?
For further information, assistance in choosing your journey or to purchase this journey as a gift, please call us on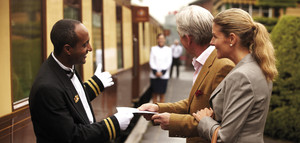 Delight a friend or loved one with the ultimate present—a gift card for the trip of a lifetime.
Onboard information
Carriage information
Currency converter