Chichester Festival Theatre: The Sound of Music
Your Journey
Board our quintessentially British train for a glorious, theatrical adventure. Travel to Chichester Festival Theatre to enjoy an exuberant production of The Sound of Music, indulging in exceptional cuisine and convivial conversation all the way.
Every summer, Chichester Festival Theatre produces its own musicals as part of its renowned summer series. This year, a talented cast, including Gina Beck taking to the stage as Maria, will perform a brand-new production of Rodgers & Hammerstein's The Sound of Music. Prepare to be transported to the Austrian mountains and Captain von Trapp's household as you're reminded of irresistible songs such as 'My Favourite Things' and 'Edelweiss'. Your journey begins at London Victoria Station as you board British Pullman and take your seat in your sumptuous carriage. Note your steward's iconic uniform as you're guided to your comfortable armchair at a pristine table with a view. Over a sparkling Bellini cocktail, take time to absorb the authentic 1920s décor and craftsmanship, with vintage details ranging from polished marquetry to brass luggage racks. Savour a delicious brunch as the train makes its way towards Chichester in the rolling Sussex countryside. Your tickets will be handed to you on the train. On arrival in Chichester, board a coach for the short transfer to the Festival Theatre. Should you prefer to stretch your legs, the theatre is approximately 20 minutes on foot – the matinee performance begins at 14:30. Take your seat, located in the stalls, ready for the curtains to open. A 15-minute interval lets you enjoy a refreshment break. Following the performance, as the crowds disperse, we will head to the Minerva Bar for an exclusive drinks reception. Chat with your fellow travellers about the show and say hello to Gina herself as she pops in before preparing for her evening performance. Afterwards, board the coach to Chichester Station to rejoin British Pullman for your journey back to London Victoria. Shortly after boarding you'll find yourself with a glass of chilled champagne in hand, which is soon followed by a sensational three-course dinner. Our sommelier's choice of wine accompanies the seasonal menu, with coffee served before you arrive back in London. As your Chichester Festival Theatre luxury journey comes to a close, we bid you farewell at Victoria Station – but we hope to see you soon aboard the British Pullman.
Includes
Round-trip travel aboard the British Pullman luxury train
Welcome sparkling Bellini
Fine-dining silver service
Delicious three-course brunch on the outward journey
Morning tea and coffee
Transfer to Festival Theatre, for the matinee performance
Exclusive meet & greet with lead actress Gina Beck
Champagne reception back on board
Sumptuous three-course dinner
A selection of wines curated by our sommelier
Coffee, tea and petits fours
The Sound of Music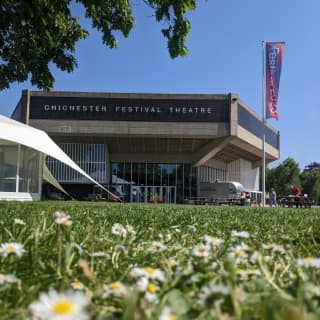 About
The Sound of Music
Maria, a free-spirited nun, becomes the governess for the seven children of widowed Captain von Trapp in Austria in 1938. She brings music and happiness to their household, but they must flee from the Nazis who have taken control of the country.
"The Sound of Music" is Rodgers and Hammerstein's beloved final musical. It features a wonderful score, including the famous "Climb Ev'ry Mountain" and "So Long, Farewell", and explores the themes of love, family and bravery.
All aboard
Let us know how many people will be travelling, and how many cabins you'll need.
Continue