GROUPS
One of the most unique venues Edinburgh has to offer, Belmond Royal Scotsman is your ticket to five-star hospitality...
Expect world-class service, luxury accommodation and fine dining as your party sets off on a journey through Scotland's most awe-inspiring scenery.
Explore castles, climb mountains and visit whisky distilleries. When you charter the train, the choice is completely yours.
Exclusive Charters
Whatever the occasion, Belmond Royal Scotsman never fails to impress.
Accommodating 40 people, why not charter the train for your exclusive use? Our one-, two-, three- or four-night train charters are perfect for any occasion. Alternatively, hire the train for a day excursion or spectacular gala dinner.
Includes:
Private use of restaurant and bar cars
Customised menus and drinks
Tailor-made itineraries
The opportunity to enhance the programme with entertainment and extras, such as musicians, photographers and gifts
Planning the Perfect Event
Try a theme…
We can tailor your itinerary to include your preferred activities, including alternative excursions to appeal to all tastes.
Add an event…
Plan your trip to coincide with an event in Scotland. From fabulous festivals to sensational sporting events, it's a great way to start or finish your party.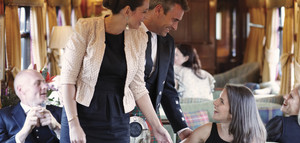 Whether planning Scottish tours for a business group or a showstopping day event, contact us directly to discuss your requirements and we will be delighted to help.
Enquire