SIGNATURE SUITES
Our grand Signature Suites offer unparalleled comfort and authentic style.
Reservations

They each feature a spacious bathroom with underfloor heating and Peruvian travertine marble décor.
All Signature Suites can be enriched with oxygen to help combat altitude sickness. You may also choose to have your room delicately scented with healing essential aromas of Andean flowers and herbs.
Colonial Arch Suite
A stunning original colonial arch serves as the centrepiece to this dramatic suite. The spacious, separate sitting area commands a stunning view of the main courtyard and the 16th-century fountain.
Palacio Suite
Located in the most ancient part of one of the most sophisticated hotels in Cusco, the Palacio Suite is a timeless sanctuary. Offering an expansive private terrace, separate living room and office area, it is ideal for longer stays in this buzzing city.
Nazarenas Suite
Enjoy true boutique accommodation in the heart of Cusco. This elegant master suite boasts an original, handcrafted ceiling, whose colours have inspired the entire palette of the hotel. The authentic charm and exclusivity of the Suite make for an irresistible combination. It is enhanced by the remarkable view of Nazarenas Square from its corner terrace.
DETAILS
King-sized beds
Peruvian marble bathrooms
Size: from 62 m2 to 130 m2 / 667 ft2 to 1,399 ft2
AMENITIES
24 hour butler service
Bar with espresso and tea making facilities, nibbles and pisco station
Satellite TV and sound system
Wireless internet and iPad with Nazarenas' App
In-suite boutique (upon request)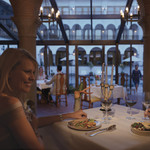 Celebrate in Style
Whether a wedding, anniversary, honeymoon or just because, make any occasion unforgettable with this special package.
Read more and book
COMPARE ACCOMMODATION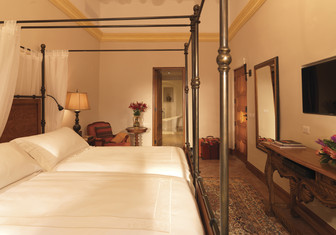 Junior Suites
King-size or twin poster beds
Spacious bathroom
Size: up to 37 m2 / 398 ft2
Full details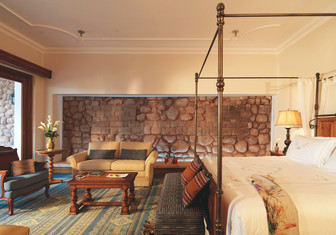 Studio Suites
King-sized or twin poster beds
Peruvian marble bathrooms
Size: up to 74 m2 / 796 ft2
Full details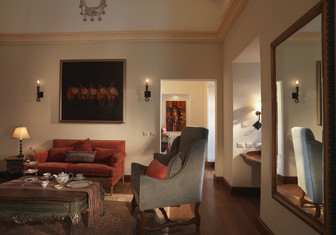 One Bedroom Suites
King-sized or twin poster beds
Spacious lounge
Size: up to 68 m2 / 731 ft2
Full details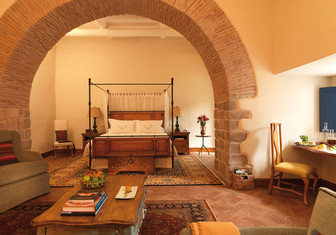 Signature Suites
King-sized beds
Beautiful balconies
Size: up to 130 m2 / 1,399 ft2