"Art is the highest form of hope," wrote the painter Gerhard Richter in 1982. It's a phrase that resonates profoundly with the creative culture of Cusco. This treasured region offers an extraordinary blend of ancient Andean customs with Spanish colonial tradition. Peruvians adore Cusco's mystical atmosphere, and the fact this tiny city is situated at such high altitude only adds to the magic. With its rich artistry and touching warmth, Cusco offers a very high form of hope indeed.
IT STANDS TO REASON that Cusco's artists' quarter should be located on a hilltop—the loftiest point in an already elevated land. But Barrio San Blas is worth every moment of the climb. Its cobbled streets are dotted with painters' studios and artisans' workshops. Here makers from Cusco and beyond blend ancient techniques with modern art. Feast your eyes on gorgeous wood-carving and ceramics, as well as contemporary painting.
Wherever there's a beautiful bohemian quarter, you'll find excellent coffee. Barrio San Blas is no exception to this happy rule. There are plenty of inviting cafés here, from the volunteer-run Meeting Place to the traditional, festive Café Loco. But there's more to the deliciousness of Cuscanian coffee than its baristas' dedication. Peru is one of the world's biggest producers of arabica coffee beans. Cusco itself is not far from the low rainforest of the Amazon where farm associations grow organic, Fairtrade beans.
Cusco may be a city but it has the picturesque appearance and easy, sweet feel of a town. San Blas is just a five-minute stroll from Belmond Palacio Nazarenas and Belmond Hotel Monasterio. These unique, historic hotels are at the heart of Cusco's Centro Histórico. You're a stone's throw away from Plaza De Armas (the main square) with its stunning cathedral. Again, the melding of cultures is evident: this 16th-century cathedral was built on the site of Viracocha Inca's palace, using blocks from nearby Sacsaywamán.
Those with an appetite to explore further afield can explore the Sacred Valley, staying at our Andean retreat Belmond Hotel Rio Sagrado. Adventurous types can take the luxury Belmond Hiram Bingham train to the fabled Inca site of Machu Picchu, and spend time at the rejuvenative Belmond Sanctuary Lodge. It's never long, though, until one hears the sweet call of Cusco.
Cusco has a way of seamlessly integrating the best of what's available in a totally unique way, whether culturally or nutritionally. Of the different varieties of cuisine on offer, Cusco's vegan restaurants are especially popular, and for good reason: the produce here is organic beyond belief, grown locally, seasonally and with love. In the Incan tradition, physical health goes hand in hand with spiritual health. Perhaps it's for this reason that the local muña tea—made a from a form of Andean mint—is so nourishing. Drink deeply, and enjoy this splendid city.
Three great coffee spots in San Blas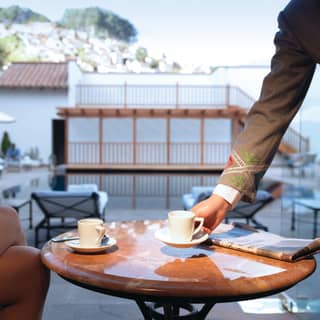 Three great coffee spots in San Blas
The Meeting Place
Run by volunteers, this friendly café gives its profits to organisations around Cusco. Plazoleta San Blas 630
Cafeteria Siete & Siete
The steep climb to the Pension Alemana café is rewarded by the wonderful coffee and panoramic views you'll find here. Calle Tandapata 260
Café Loco
Besides great coffee, this welcoming eatery offers farm-fresh food and Andean music.
Plaza San Blas, Calle Tandapata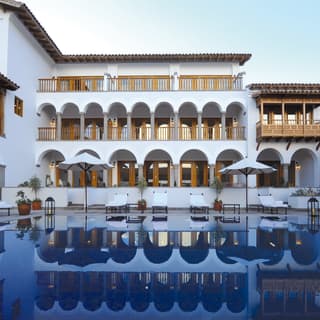 Your 'Once upon a time…' journey starts here
Palacio Nazarenas
Find out more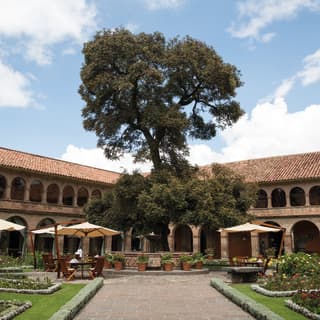 Historic charm with a modern twist
Belmond Hotel Monasterio
Find out more