DINING
Belmond Palacio Nazarenas combines traditional ingredients with innovative techniques for a unique gastronomic experience.
Request a table

Senzo is not open for the sitting, time and date combination you have chosen.
Senzo Restaurant

A destination bistro, Senzo Restaurant offers exceptional cuisine in a vibrant yet refined atmosphere. It enjoys a luminary reputation among Cusco restaurants for its stylish, authentic menu.
By adding a modern twist to fresh regional ingredients our expert chefs present diners with exquisite tastes and unique textures.
The à la carte and individual table buffet breakfasts feature a nutritious, balanced and creative selection. The dining menu showcases contemporary Andean cuisine and can be tailored to suit the diners' personal preferences.
Specialty dishes feature indigenous herbs and are decorated with edible flowers, many grown throughout the hotel.
Breakfast: 5:00 – 10:30am
Lunch: 11:00am – 4:00pm
Dinner: 7:00 – 10:30pm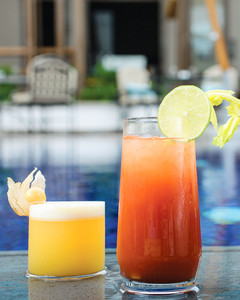 Senzo Bar
Cocktails and other refreshments can be enjoyed at the only open-air heated pool in Cusco.
The pool menu features nutritious options consisting of light, colourful dishes and a selection of South American wines.
A traditional fruit and vegetable cart also sits by the pool bringing the colour and fun of a Peruvian market to Belmond Palacio Nazarenas. Choose your perfect combination for a freshly-prepared juice or an exotic fruit salad.
Open: 11am – 11pm
Dining at Hotel Monasterio

While staying at Belmond Palacio Nazarenas, enjoy the renowned restaurants at Belmond Hotel Monasterio, our sister hotel.
Sample the Mediterranean cuisine and distinctive charm of Illariy Restaurant. At El Tupay, French-inspired dishes and Bohemian Nights with local singers are not to be missed. The relaxed atmosphere of the Lobby Bar is ideal for pre- or post-dinner drinks.
Belmond Hotel Monasterio is located right next to Belmond Palacio Nazarenas and you may add any dining expense to your suite's account.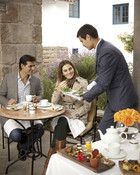 BELMOND GIFT CARDS
A sensational dining experience, an exclusive tour or a relaxing spa treatment...
Our gift cards may be used towards a variety of services at Belmond Palacio Nazarenas or across our iconic hotels, trains or river cruises worldwide.
Learn more
Request a table

Senzo is not open for the sitting, time and date combination you have chosen.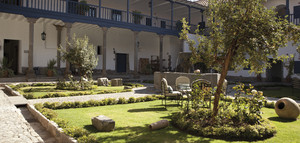 Enjoy afternoon tea in Belmond Palacio Nazarena's secret garden surrounded by fragrant herbs. Price: US$22
Reserve now
Afternoon Tea