Michelin Starred Restaurants
Article
A Taste of Stardom
From gold-plated dining overlooking the Venetian lagoon to pan-Asian elegance in the heart of Rio, Belmond is proud to offer some of the best Michelin-star restaurants in the world.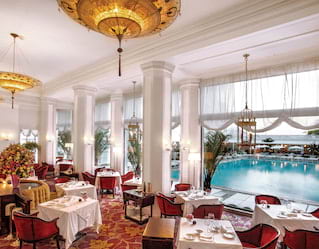 Bravo Brazil
A long-loved classic, Hotel Cipriani Restaurant offers a sophisticated Italian dining experience in the heart of Rio de Janeiro. Elegant interiors and peerless service set the scene for an elevated feast, while views of the iconic Belmond Copacabana Palace swimming pool are sure to inspire.
Menus are designed by Naples-born Executive Chef Nello Cassese. He infuses Italian traditions with modern, playful twists. Every menu is a celebration of seasonality. Tagliolini is served with fresh lemon, shrimp and burrata. Catch of the day is served 'Parmigiana style', with smoked buffalo mozzarella and fresh tomato. There are also dishes recreated from the original menus of Belmond Hotel Cipriani in Venice—the restaurant's namesake. Whatever you decide upon, an unexpected culinary journey is guaranteed.
Hotel Cipriani Restaurant - One Michelin Star
B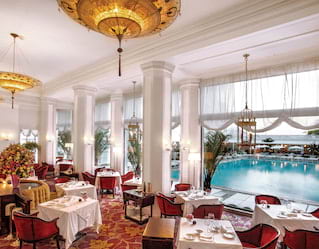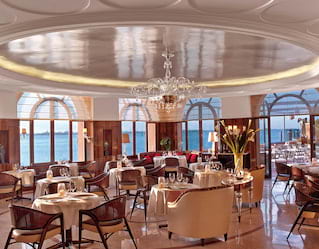 Venetian Gold
Dining at Oro is an ethereal and glamorous affair. Set on the tip of Giudecca Island it commands sensational views spreading out across the lagoon towards Piazza San Marco. An impressive domed gold leaf ceiling serves as the restaurant's namesake ('Oro' means 'gold' in Italian). The magnificent handmade Murano glass chandelier at its centre accentuates the sparkle.
"Most of our produce is sourced from the Lagoon's local gardens, especially Giudecca and Sant'Erasmo islands," explains Executive Chef Davide Bisetto. This way he captures the true flavours of Venice at their most seasonal. Oro is the perfect place to experience authentic, elevated cuisine that is one of the most unique in all of Italy.
Oro Restaurant - One Michelin Star
V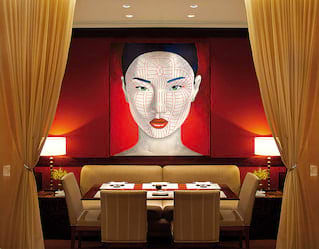 Sizzle of Rio
The City of Samba is aflame with restaurants ready to ignite your imagination, but few are as hot as MEE at Belmond Copacabana Palace. Featuring dramatic décor and an elegant pan-Asian menu, it has become one of Rio's most sought after dining venues. Take a seat, and you will be whisked on a gastronomic journey through Thailand, Cambodia, Malaysia, Korea and Japan.
Our well-seasoned chef flexes his creative muscle, fusing flavours and textures from different places to keep guests excited. One such dish is tokubesuna kaki, fusing fresh Brazilian oysters with sea urchin and tangy ponzu sauce.
MEE - One Michelin Star
S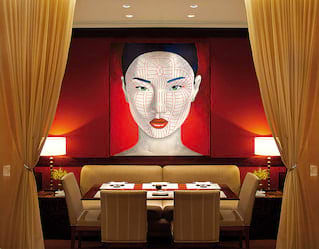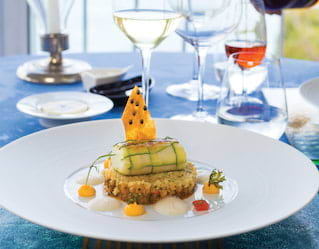 Pearl of the Atlantic
Nestled on the cliffs of Funchal, gazing down to the endless Atlantic Ocean beyond, Belmond Reid's Palace has long set the standard for luxury in Madeira. William restaurant honours the hotel's rich history while pushing the often-overlooked local cuisine to daringly modern new frontiers. Executive Chef Luís Pestana has trained at some of the most extravagant restaurants in the world, but he found his own unique direction for William.
"Using local ingredients and old Madeiran recipes allows me to travel back in time to my childhood. I grew up collecting milk, eggs, harvesting vegetables and climbing trees to pick fruits," Luis explains. "I do believe my childhood had a massive impact on my cooking philosophy: I like to keep my creations authentic by respecting Madeira traditions, but I love to introduce new twists to achieve a perfect harmony."
William Restaurant - One Michelin Star
P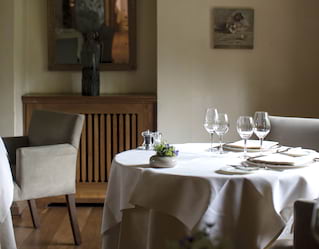 Britain's Modern Classic
"Forget about any guide. Focus on your guest and what nature has provided, utilise it at its best and treat each item with reverence," explains Gary Jones, Executive Head Chef at Belmond Le Manoir aux Quat'Saisons in Oxfordshire. The cuisine at this celebrated restaurant hotel is the vision of Raymond Blanc OBE, a vision which is lovingly realised by Chef Jones. "I personally only ever worry about producing good food, never about reputation. If the food is consistently good, the rest will follow."
Gary's approach to the food he creates has paid off. The restaurant has retained its two Michelin stars for 32 consecutive years, having received both upon opening. It enjoys a reputation as one of Britain's best restaurants, and is a bucket list dining experience for many self-proclaimed foodies. As the seasons change, the menu also transforms to reflect this stunning time of year.
Belmond Le Manoir aux Quat'Saisons - Two Michelin Stars
B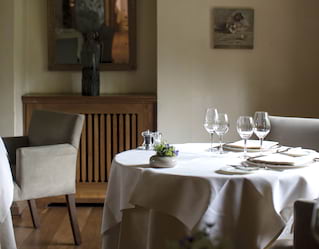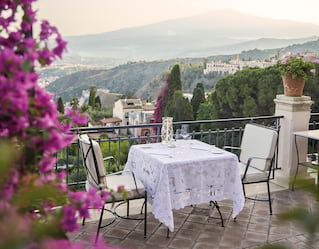 Sicilian Satisfaction
At Otto Geleng, head chef Robert Toro draws upon the varied flavors of the Mediterranean. The menu celebrates and enhances local ingredients that are authentic yet luxurious, like the San Miniato white truffle. The signature dish, though, is inspired by the sea. 'Otto di Mare' contains eight varieties of seafood, from the red prawns of Mazzara del Vallo to the prawns of Acitrezza.
Positioned with views of the rugged Sicilian coastline, the restaurant is home to an awe-inspiring dining experience. Eight tables grace the charming terrace, adorned with design touches from local artisans. Bougainvillea forms in picturesque arches, framing the dramatic panoramic scenery. Enjoy the freshest produce and inventive plating techniques, all soundtracked to the gently lapping sea.
Otto Geleng Restaurant - One Michelin Star
S