Fine tropical produce with a Caribbean kick
Some of the finest restaurants in Anguilla can be found at Belmond Cap Juluca. Take a seat beside a brilliant stretch of dazzling white sand. Then slowly sink into a menu filled with vibrant island flavors, often brought to life with herbs and spices from our own bountiful garden.
Pimms
Pimms
Dining at Pimms can take your breath away. Situated beside Maundays Bay, a tantalizing menu of just-caught seafood with Anguillan flourishes leads the way for a pioneering island food scene. Feast on Asian-style big eye snapper or in-season lobster. Then wash it all down with something crisp from our Wine Spectator award-winning list.
Opening times:
Dinner: 6:30 – 9:30pm
Closed on Wednesdays
Request a table
Blue
Blue
With azure vistas at every turn, Blue lives up to its name. The Caribbean Sea and St. Martin are the backdrop to a flower-filled patio. It's the perfect spot to enjoy a laidback tropical fruit breakfast or delicious lunch of mahi mahi wraps and fresh conch fritters. 
Join us at sundown for expertly blended rum cocktails, or attend the Wednesday beach barbecue for perfectly grilled fare and live music beneath the stars.
Opening times:
Breakfast: 7:30–10am
Lunch: noon–3pm
Dinner: 7–10pm
Request a table
More to Savor
Peruse our options for every mood and appetite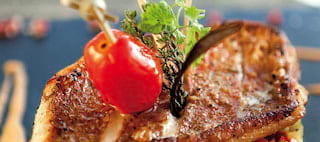 Spice
Exuding Moroccan-style mystique, Spice is the ultimate seduction for cocktails and dining beside Maundays Bay.
In typical North African dining style, our tantalizing selection of appetizers and small plates is designed for sharing. Accompany each colorful creation with an equally vibrant cocktail from our exotic menu. Every Monday and Friday, live music adds an extra sensory layer to this unique culinary experience. Dinner served between 6:30pm – 11pm.
Maundays
Even in the Caribbean, coffee connoisseurs will be pleased to know there's an expert barista waiting to craft the perfect cup. Freshly made juices and smoothies refresh and energize after a morning snorkel. Complimentary afternoon tea is served daily, with a selection of homemade biscuits and variety of caffeinated and herbal blends. Why not take a seat as the sun sinks into the reef for a tropical sundowner?
Coffee Bar: 7am – 9am
Complimentary Tea Service: 4pm – 5pm
Bar Service: midday – 11pm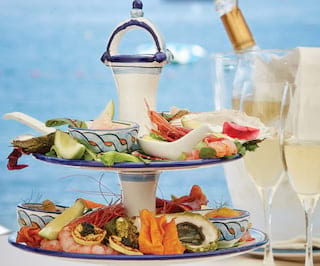 Afternoon Sea Time
Discover our version of English afternoon tea at sister hotel Belmond Villa Sant'Andrea. Swap the teapot for champagne, and scones for just-chucked oysters and raw fish appetizers, fresh from the Sicilian sea.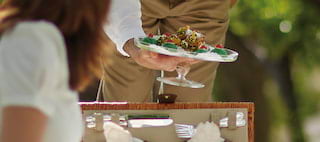 Picnic Chic
Relax on our manicured lawns and sample mouthwatering specialities prepared by our Chef. Expect marinated skewers, al dente pasta and flakey pies––all served up by your own picnic butler.