A dinner With Chef Sally Abé
Your Journey
Consultant Chef for The Conrad London St James and its flagship restaurant The Pem, Sally Abé joins the British Pullman train for an exceptional culinary dinner in November.
On 10 November 2023, step aboard the British Pullman's carriages at London Victoria Station and be transported to the Art Deco era where your culinary journey can begin. For this special gastronomic dinner, your host is Sally Abé. Growing up in Mansfield — and having no plans to initially become a chef — her studies of hospitality at Sheffield Hallam University and placement at The Savoy ignited a spark for cooking. She went on to hone her craft with Gordon Ramsay at Claridge's, The Ledbury with Brett Graham and eventually The Harwood Arms, where, as Head Chef, she gained a Michelin star for the London gastropub. Abé then left to become Consultant Chef for the Conrad London St James, operating four dining outlets at the hotel, including flagship restaurant The Pem, named after suffragette Emily Wilding Davidson. Chef Sally Abé believes in empowering women in the hospitality industry and in using great British seasonal ingredients, with an emphasis on sustainability in her menus. Her predominantly female team seeks to create a culture far removed from tumultuous kitchen environments. She was named Chef to Watch in the 2019 National Restaurant Awards, nominated for the GQ Chef of the Year 2021 and included in CODE's 100 Most Influential Women in Hospitality 2022. As the train travels through Kent, indulge in a five-course tasting dinner, honouring Chef Sally Abé's signature style and paired with our sommelier's choice of wines. Coffee and petits fours are served on your way back to London Victoria.
Includes
Round-trip travel aboard the British Pullman luxury train
A seasonal, five-course tasting menu
Wines matched to main course and dessert
Coffee, tea and petits fours
Sally Abé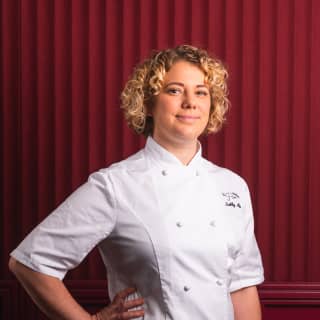 About
Sally Abé
Sally Abé is a renowned London chef with an impressive resume that includes The Ledbury, The Harwood Arms, and The Square. She currently heads The Pem, a fine dining restaurant at the 5-star Conrad London St James in Westminster.
She is also an advocate for women in hospitality and a mentor for young chefs. Her achievements include winning awards such as 'Female Chef of the Year' at the SquareMeal Ayala Female Chef Awards 2021. Sally is also a frequent TV personality, appearing on shows like Saturday Kitchen Live and James Martin's Saturday Morning, as well as reaching the banquet on Great British Menu 2022.
Please note that gentlemen are requested to wear black ties. For women, a cocktail dress or similar attire is recommended.
All aboard
Let us know how many people will be travelling, and how many cabins you'll need.
Continue