Article
Home Suite Home
Sustainable, innovative and indulgent are words that spring to mind when staying with Belmond. From woven rattan chairs in South Africa to geometric artwork in Russia, we're home to award-winning designs. Dive into a selection of our most spellbinding suites.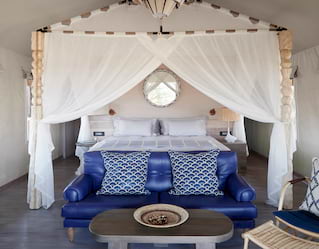 Savute Elephant Lodge
A tented oasis in the heart of the Chobe National Park, Savute Elephant Lodge was fully refurbished in 2018. Inspired by the surrounding landscape, Inge Moore of Muza Lab made use of rich textures and colour. The sustainable design includes eco-friendly bamboo decking and functions on a 95% solar grid system, respecting the nature and wilderness of the region. Unique design touches include handmade pottery basins and rattan seating by Southern Africa's Blind Society.
Stay at Belmond Savute Elephant Lodge
S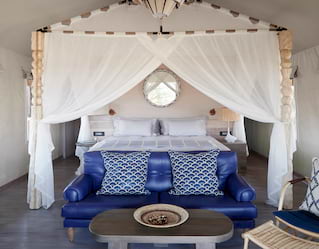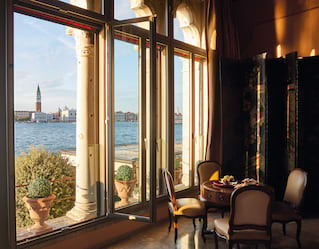 Dogaressa Suite
Located inside the 15th-century Palazzo Vendramin, the views of St Mark's Square and the Doge's Palace from the Dogaressa Suite are second-to-none. Featuring 18th-century Coromandel screens, Fortuny and Rubelli fabrics, original artworks and a pink marble bathroom, the suite is a designer's dream. Live inside a Canaletto painting in this unique spot of veritable Venetian opulence.
Stay at Belmond Hotel Cipriani
D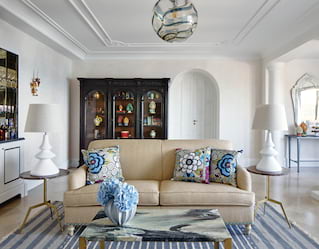 Presidential Suite
Overlooking the charmingly serene Taormina Bay, Villa Sant'Andrea's Presidential Suite makes stunning use of natural elements. Wood, stone and flowers help create a simple, elegant feel. Several unique design touches nod to traditional Sicilian craftsmanship, such as the woven rattan bedhead and framed antiques. Captivating works of art recall classic movies and Taormina's Film Festival, placed alongside original paintings by artist Mimmo Rotella. With colourful antique tiles and an expansive terrace overlooking the bay, here you have the best seat in the house.
Stay at Belmond Villa Sant'Andrea
P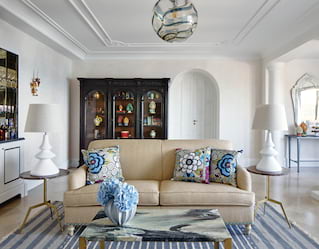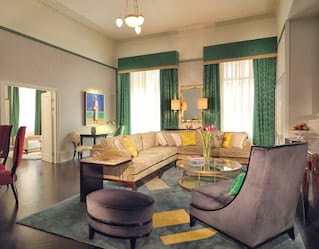 Malevich Presidential Suite
"Everywhere there is craft and technique; everywhere there is artistry and form." Russian avant-garde artist Kazemir Malevich's thoughtful ruminations on the avant-garde inspired Grand Hotel Europe's Malevich Suite. The artist's predilection for striking shapes and bold colours is reflected in the suite designed by Tihany Design. Perfect for a unique stay, continue learning about the painter's geometric abstract art with exclusive access to the 'One Step to Malevich' exhibition.
Stay at Belmond Grand Hotel Europe
M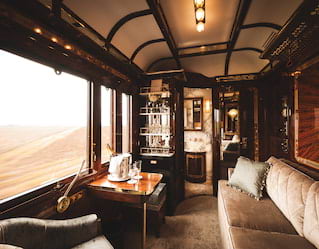 Paris Grand Suite
The Golden Age of Travel was characterized by its sumptuous luxury and palatial design. Our Grand Suites transport you back to this elegant era. Exquisitely crafted by experts, the Paris Grand Suite aboard the Venice Simplon-Orient-Express was voted the World's Best Suite in 2019 by AHEAD. With stunning art deco features and intricate timber marquetry wall panels, the suites are the epitome of timelessness. Free-flowing champagne and 24hr butler service included, naturally.
Stay aboard the Belmond Venice Simplon-Orient-Express
P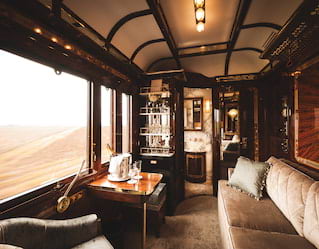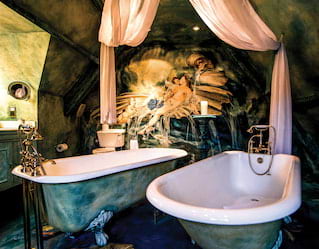 Botticelli Deluxe Room
Every suite at Belmond Le Manoir aux Quat'Saisons is uniquely designed to reflect Raymond Blanc's stylish travels. But perhaps the Botticelli Deluxe Room is the most flamboyant, inspired by the famous Early Renaissance painter. A stunning spiral staircase links the bedroom to the bathroom, which boasts a dazzling Botticelli-style mural and not one, but two freestanding bathtubs.
Stay at Belmond Le Manoir aux Quat'Saisons
B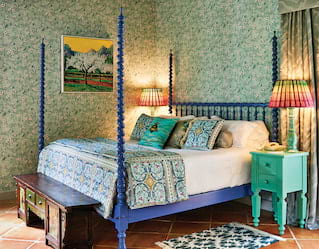 Designer Suite by Matthew Williamson
The village of Deià has been a haven for artists since the 19th century. Matthew Williamson took inspiration from the village's history when creating the suite, working with local craftspeople and artists. From the hand-painted ceramic floor tiles by Balineum to the botanical art by John Derion, the suite is a smorgasbord of playful design. Little touches, like the 'his and her' wardrobes, take traditional Spanish carpentry to a whole new level in our design hotel. The result? A chic, kitsch blend of the traditional and bohemian.
Stay at Belmond Belmond La Residencia
D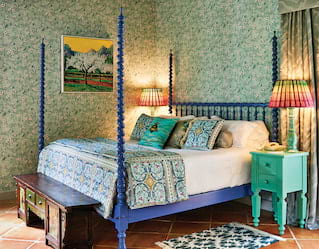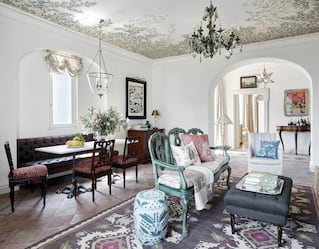 Belmond Villa Margherita
Perched on a cliffside overlooking the sparkling Amalfi Coast, Belmond Villa Margherita is a creative marvel. Drawing inspiration from the lush Italian countryside and elegant heritage, designer Eric Egan sought out world-class materials and coveted antiques. Admire the 18th-century Neapolitan chairs, expertly upholstered in vintage Fortuny fabrics. Boasting stunning hand-painted trompe-l'œil ceilings, the villa is also home to original artwork—including a rare Matisse.
Stay at Belmond Villa Margherita
B
Stretch out in glorious space
With our worldwide getaways, whatever your requirements, there's a suite with your name on it.
Explore