"You know you are truly alive when you're living among lions." – Karen Blixen, Out of Africa.
OUR SAFARIS ACROSS BOTSWANA take you to the very heart of Africa. In the arms of nature, every sight and sound exhilarates—from roaming elephants to roaring lions. Such adventures demand a certain style.
You may feel a thousand miles from civilisation but with Belmond you're never far from the lap of luxury. Just a short flight from Maun, take a plane deep into the wild and prepare for the thrill of a lifetime.
At Belmond Savute Elephant Lodge, old-world indulgence comes alive. Perched beside the Savute Channel with its unpredictable wet and dry cycles, the lodge oozes colonial charm. Mosquito nets shroud four-poster beds, while outdoor showers foster a closeness with nature. You might spot a zebra while freshening up. Rooms are set on raised platforms with spacious decks: take morning coffee on your daybed and let the safari come to you. Tea beneath the baobab trees is something of a ritual. Don't miss dinner at our authentic Boma where, in a time-honoured tradition, you can savour local delicacies under the light of the stars.
Nestled on a private island at the heart of the Okavango Delta, Belmond Eagle Island Lodge is the ultimate water safari. Fully refurbished in 2015, it brings timeless luxury to the Botswana wetlands. High-ceilinged rooms flood with light; each has a plunge pool and oversized bed with views of the delta. Walled showers have windows, too. Keep an eye out for hippos skulking in the water and fish eagles soaring overhead. The Fish Eagle Bar is a great place for a cocktail: It's magnificent come sunset, streaked in amber and violet. Dine alfresco overlooking the lagoon, before heading to the roaring firepit. Our guide gives talks on everything from delta geology to African myths.
Whether you're just visiting one of our lodges or you're on an adventure that includes all three, Belmond Safaris provide memories that last a lifetime. As the old African proverb goes: the eyes never forget what the heart has seen.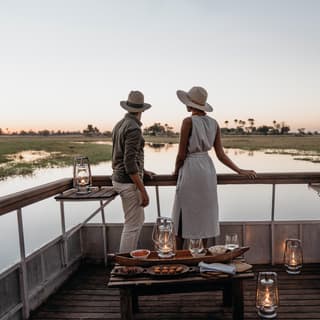 Africa's ultimate water-focused safari
Eagle Island Lodge
Find out more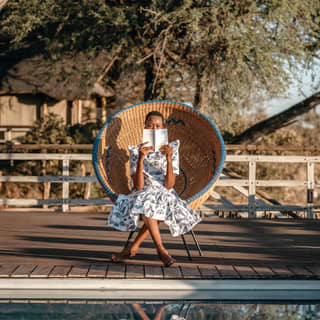 A captivating colonial retreat
Savute Elephant Lodge
Find out more