The Cadogan
Behind the Canvas
A plush hideaway in the heart of Chelsea, The Cadogan courses with an artistic pulse. Join us as we go behind the canvas and get to know some of the inspirational artists.

By Daniel Hayden
The Cadogan is a treasure trove for art lovers. This Sloane Street sanctuary may only have 54 rooms, but throughout our historic halls and guest spaces you'll uncover more than 430 unique, original works of art.
A stunning commissioned oil work from English artist Simon Casson sits above the check-in desk. Titled 'Ablement and Ablish', this striking and colourful quasi-collage tells the story of Hans Sloane in a variety of different scenes. In the elevator cars you'll find rich patterns that have been meticulously pin-pricked on white paper, depicting topographical views of Peru and the Arabian Peninsula.
The function rooms feature hyper-charged, jewel-toned jungle scenes, rendered in acrylic and resin by Hampshire-based Orlanda Broom. X-ray images of botanicals from British artist Nick Veasey add an otherworldly alfresco atmosphere to the corridors.
The artistry continues in the sensationally furnished guest rooms. Unique among luxury hotels, each and every room and suite features an original, commissioned headboard piece.
A wide pool of candidates was carefully whittled down to five artists, each with strong ties to Britain and with a distinctive visual style. They were invited to explore Cadogan Place Gardens—a serene space largely hidden from the public, that hotel guests have privileged access to. With this as their inspiration they were given free rein to interpret the space in their own terms.
"These ladies, who had never met, came together as a group, like sisters, to share and help each other," explains Minda Dowling, Curator and Consultant from Artefact. "We did set some rules, such as they were not to share their work with each other. We wanted them to keep their own voice and style. But they talked and became friends, and that sense of cohesion can be felt when you look at the collection as a whole.
"I think the beauty is that each one of the artists, though they are all British and all women, had a different interpretation of the same space. That's very exciting to see, and they fit together so well. It's like putting together a symphony. You take different layers and unique element to create something with depth and pitch, but harmonised. It's the same for an art collection. You need textures and layers." Minda concludes: "There was method in the madness."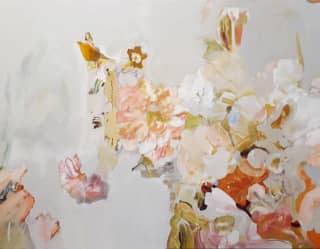 Helen Ballardie
Helen studied Fine Art Painting at the Kent Institute of Art & Design, and won the Dulwich Picture Gallery's Open Exhibition in 2018. She maps out her ideas on canvas using oils, for their versatility, but uses other mediums including inks, pencils, felt tip pens and collage. Her work explores ideas around identity and perception, creating 'memories' from disparate images.
"When I went to the garden, I liked that there were different pockets. Like different rooms you would find in a hotel, each with a unique atmosphere," Helen explains. "I used that as a starting point for each of the paintings, to recreate the sense of having different sections in a garden.
"I usually paint quite figuratively. But during this process I actually bought a house with my own garden, and all of a sudden, it was all I wanted to paint," Helen tells us. "Working in large dimensions and to tight deadlines… I found it very liberating actually. You just had to be very confident, and go for it."
Her work can be found in Rooms 105, 202, 305, 311, 312, 406, 407, 412 and 507
H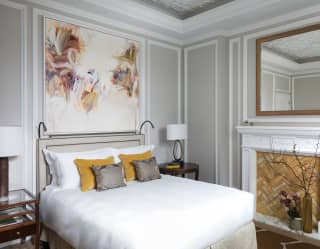 Beatriz Elorza
Beatriz channels her knowledge of architecture into her work to create a strong sense of depth. Always using four colours or less, she employs a wide range of media to create ethereal canvases that offer a sense of calm. Her multiple awards include International Artist Award at the 2018 World Art Dubai and the London Ibero-American Arts Award in 2016.
"I worked from many, many photos that I received, but I was lucky that I could also visit an English garden in Italy. That gave me a feel for the composition and spaces," Beatriz says. "I then channelled my emotions and feelings for the gardens through the use of colour.
"It was fun to paint in a horizontal landscape, that was quite new for me, and for all of us. It got me to play differently with perspective and composition. It was great to open my mind to something new."
Her work can be found in Rooms 102, 106, 205, 302, 306, 404, 405, 409, 504 and 506
B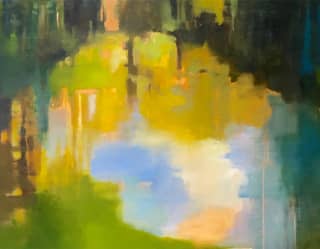 Jane Kell
Jane paints full time from her home studio in Teddington. She is grounded in the tradition of realism, but pushes the boundaries of colour and form to achieve a more semi-abstract, atmospheric quality. She paints with oils 'alla prima', and themes of light on water and the colours of an evening sky are recurring in her work.
"I think the biggest influence for me was the water in the garden, and the water feature," Jane tells us. "We used big canvases, and that can be quite intimidating. But by channeling the trees and the water, and deciding that was my direction, I found it easier to overcome that daunting space.
"My art changed during the process of this commission. The scale and time demands were a challenge, but that makes you adapt your style and opens your eyes to new ways of working," Jane explains. "Actually, I'm anxious to do some more!"
Her work can be found in Rooms 103, 110, 203, 210, 211, 307, 309, 411 and 502
J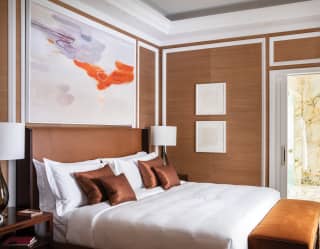 Ele Pack
Ele lives in Brighton, and exhibits her work nationally and internationally. She treats painting as a kind of 'visual poetry', using abstract mark making to lift and communicate with her audience. She uses a mixture of materials, including paint, fabric and metallics, to build her paintings in an organic way.
"I paint mainly abstract, colour-based work," Ele tells us. "I was inspired in a sensory way by the gardens. Not just visually, but by the smells and the sounds and the spaces. I was also inspired by the hotel, the different materials and design. They complemented each other.
"The physicality of the work was quite tough, some of these canvases are around 2 meters in height or width." She explains. "It makes you physically paint differently. You loosen up, and go with it."
Her work can be found in Rooms 101, 107, 109, 207, 209, 301, 303, 304, 310, 401 and 403
E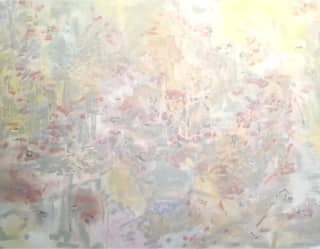 Kathleen Mullaniff
Having trained in London, Kathleen has taught Fine Art at a number of universities across the UK. Her current research is focused around making floral paintings from botanical artist Mariaan North. In 2012 she presented a one-person exhibition entitled "Fade in Fade" at the Tokarska Gallery, London. "I've been painting floral images for 35 years, and we were so inspired in the gardens. It's a space that I'd look in on through my childhood," Kathleen explains. "What struck me were the poppies. They came into my drawings; in the expressive marks, in the pinks and reds, in the blowing winds. The end result always felt drifty and dreamy, with quiet colours.
"I actually wanted to be a park keeper when I was a child. Then I went to work in a plant shop, and then I started painting flowers. I think I've always had a passion for them."
Her work can be found in Rooms 104, 111, 206, 212, 402, 408, 410, 503 and 505
K
See more of Europe with Belmond
With luxury trains and sensational hotels, we can show you the beauty of travel like no one else.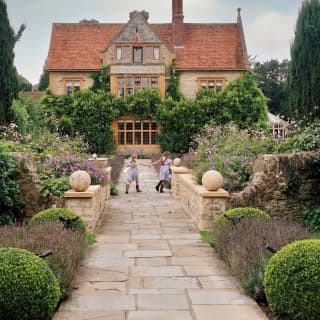 Countryside Tranquility
Le Manoir aux Quat'Saisons
Tucked away in the picturesque countryside, our 15th-century manor sets the standard for haute cuisine
Visit Oxfordshire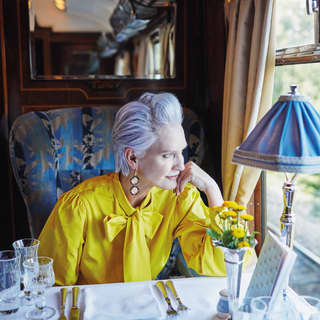 The Golden Age of Travel
British Pullman
Criss-cross beautiful Great Britain aboard our glamorous vintage train for day trips like no other, from Murder Mystery hijinks to lavish feasts prepared by Michelin-star guest chefs.
Take a seat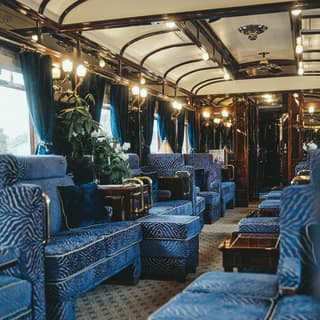 Continental Glamour
The Venice Simplon-Orient-Express
Board the Art Deco carriages of our iconic train for thrilling journeys between London and Prague, Vienna, Budapest, Verona or Venice.
Find your route