A Taste of the Eastern & Oriental Express
Recreate the flavour of a stunning Southeast Asian adventure in your own kitchen. This braised beef cheeks recipe from Executive Head Chef Yannis Martineau is the perfect way to capture the dining experience of the Eastern & Oriental Express for family and friends.
THE RUMBLE OF the engine, the emerald haze of passing palms, the copper rays of the setting sun glinting off vintage brass… A journey on the Eastern & Oriental Express luxury train is full of moments to cherish, but the stunning cuisine served aboard is sure to be a highlight of any trip.
French-born Yannis Martineau has lived and worked in Southeast Asia for more than a decade, and served as the train's Executive Head Chef for 9 years. He draws inspiration from his time in the region, taking traditional local recipes and infusing them with modern twists and European flourishes to stunning effect.
His braised beef cheeks are a great example of this gastronomic alchemy. The recipe is based on Bak Kut Teh, a traditional meat-bone soup that is very popular in Singapore and Malaysia. The dish is noted for its complex use of herbs and spices, including dong gui ginseng, cinnamon and star anise. Chef Martineau replaces the typical pork ribs with beef cheeks, which boast a rich flavour and marbled fat making them ideal for slow cooking. Accompanying sautéed apricot bao mushrooms and rich, creamy potato mousseline add an extra layer of indulgence.
Follow along with Chef Martineau's expert instructions, and anticipate a dinner party pièce de résistance that is sure to be a talking point for many months to come.
Download the recipe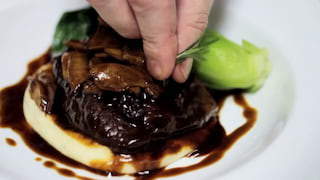 Recipe:
Braised Beef Cheeks