Timeless glamour meets modern culinary artistry
Home to some of the best restaurants in Venice, dining at Cipriani is a glamorous occasion. Sip an original Bellini at legendary Cip's Club, or savour an artistic tasting menu at Michelin-starred Oro. Be it light poolside dining at Il Porticciolo or a nightcap at Bar Gabbiano, we've a venue for every mood and occasion.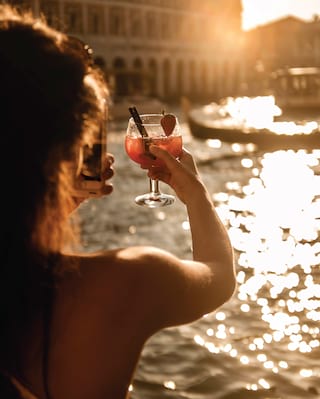 Come Together
There's nothing quite like an aperitivo to bring people together. In Italy, this enchanting hour is a time-honoured tradition. At Belmond, our bartenders and chefs use their creative spark to craft perfectly paired specialities.
From signature cocktails to a curated bar menu, our combinations celebrate authentic flavours and regional ingredients. Paired with stunning views and live music, aperitivo is our favourite time of day.
Contact us
Come Together
Thank you for your interest in Belmond.
Prefer to talk? You can call us on +39 041 240801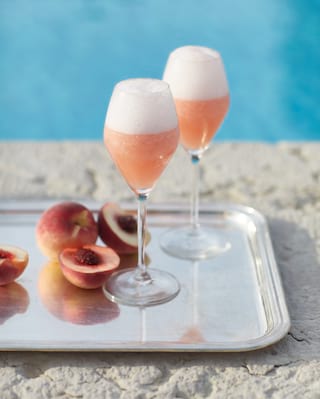 Cocktails
Bellini
This legendary prosecco and peach purée cocktail was invented in 1948 by Giuseppe Cipriani, our hotel's founder. Learn how to make the perfect tipple at our very own Bellini Academy.
Lucky Spritz
Try out this reimagining of the classic Venetian Spritz, the cult Italian aperitif. With beautifully blended sweet and bitter notes, we add sweet wine and citrus oil for a distinctive freshness.
Contact us
Cocktails
Thank you for your interest in Belmond.
Prefer to talk? You can call us on +39 041 240801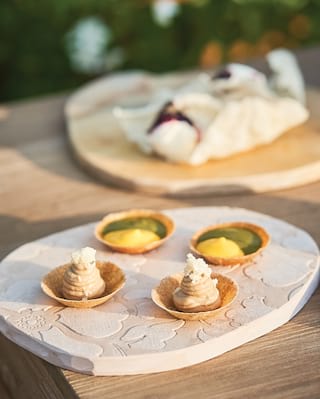 Finger Food
Cicchetti, a traditional local snack, is the perfect food to accompany a Venetian aperitif. Or, feast your eyes and taste buds on our famous Cipriani carpaccio with chargrilled bread, polenta with cod and Spello risina bean salad. Competing the delectable spread are flat Borettana onions with unsalted anchovies, and crispy courgette flowers filled with Morlacco cheese.
Contact us
Finger Food
Thank you for your interest in Belmond.
Prefer to talk? You can call us on +39 041 240801
Oro
Oro
Designed by acclaimed interior architect Adam D. Tihany, Oro reflects the ethereal energy of this mesmerising city. Sit beneath glittering Murano chandeliers and a domed goldleaf ceiling — from where the restaurant draws its name.
Oro is open for just two tables. Chef Bisetto will create a customised menu based on the freshest local ingredients. Take your seat for this exclusive, Michelin-starred experience and savour the flavours of a Venetian masterpiece.
Opening times:
Tuesday to Saturday, 19:30–22:30
Exclusively available to just two tables
Dress code:
Smart casual
Discover more
Cip's Club
Cip's Club
Both elegant and informal, Cip's Club enjoys breathtaking panoramas that heighten its alfresco ambience.
Famed as one of the most romantic settings in all of Venice, book a table on the deck and savour the enchanting views across to St Mark's Square. They're the perfect accompaniment to a menu of delicious Italian specialities.
Opening times:
Dinner, daily: 7:30pm–10:30pm
Dress code:
Smart casual
View menu
Venetian 'cick e ciak' squid
Fresh and simple, this seafood starter is perfect for hot summer evenings by the sea.
Discover Chef Bisetto's secret ingredient for making the dish sing.
Get the recipe
V
More to Savour
Peruse our options for every mood and appetite
Bar Gabbiano
Nestled beside our spectacular pool, Bar Gabbiano is a popular spot for pre- or post-dinner socialising. Soak up the views with an expertly blended Bellini, or step into the Piano Bar for a delicious nightcap. 
Open from 10:30am until midnight, light snacks served from noon to 7:30pm.
Il Porticciolo
Relax in the shade, or gaze out across the lagoon as your waiter serves up classics including carpaccio with Cipriani sauce. A refreshing cocktail is the perfect accompaniment.
Open during the summer season only, 12:30 – 3:00pm
Picture Perfect Picnic
Let our chef prepare an exquisite basket of tailor-made treats for your alfresco afternoon. Choose a traditional wicker basket for a romantic twist, or the Veuve Clicquot champagne basket made from earth-friendly materials. Then find a cosy spot with lagoon views in our Casanova gardens, or head out by boat for a picnic on the waves.
Private Hire
Let us help you plan an unforgettable event.
Got a Special Request?
Contact us
Got a Special Request?
Thank you for your interest in Belmond.
Prefer to talk? You can call us on +39 041 240801