LUXURY TRAIN CABINS
Step into your indulgent cabin and the scene is set for a timeless journey through Southeast Asia aboard this spectacular train.
There are four categories of cabins: Pullman Single, Pullman, State and Presidential. All are fully air-conditioned with en suite bathrooms. Decorative marquetry and fine fabrics give an atmosphere of warm elegance.
During the day, your cabin is a private lounge complete with banquette-style sofa. At night, it converts into a plush bedroom with an upper and lower bed.
Pullman Cabins have upper and lower berths, while State Cabins offer two single beds. All Pullman Singles have one single bed.
For the ultimate high end travel experience, our Presidential Cabin offers two inviting single beds, additional seating area and an expanded bathroom.
Floor Plan




Plan your Journey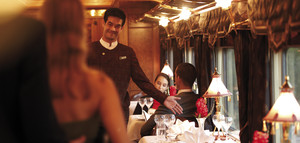 Discover the culinary delights of Southeast Asian cuisine.
At your service