SUITES
After a busy day, retire to one of the most indulgent luxury hotels San Miguel de Allende has to offer. Spacious suites offer lavish comfort in the heart of this colorful city.
Reservations

Peppered with authentic local antiques and state-of-the-art amenities, each uniquely decorated suite seamlessly combines colonial décor with luxurious modern comforts. Perfect for romantic vacations, many also command enchanting views across the cobbled streets of San Miguel.
Junior Suites
Junior Suites are a haven in San Miguel. Large beds are complete with plush pillows and fine natural fabrics to guarantee a relaxing night's sleep. Located in the Casa Principal, Casa Fuente and Casa Caballo.
Deluxe Junior Suites
Found in the Casa Parque, Casa Fuente and Casa Caballo, Deluxe Junior Suites boast ample space and luxurious amenities. Large beds, indulgently soft linens, a stone fireplace and colourful artwork create an atmosphere of tranquil nostalgia.
Studio Suites
Situated in the romantic Casa Palma and Casa Limón, Studio Suites are beautifully designed in authentic colonial style. All feature colourfully-tiled bathrooms, some with a separate copper tub, while space extends out to a private terrace or patio.
Deluxe Studio Suites
Soak up the atmosphere from your private terrace, and cool down in your personal plunge pool. Located in Casa Palma and Casa Limón, Deluxe Studio Suites echo the vibrant charm of San Miguel de Allende while offering additional indulgence.
Deluxe One-bedroom Suite
Also found in Casa Palma and Casa Limón, Deluxe One-bedroom Suites guarantee an unforgettable stay. Roomy bathrooms include dual vanity sinks, while some also boast a separate copper tub. They also feature a private plunge pool.
DETAILS
King-size bed
Talavera-tiled bathroom
Separate sitting area
Size: from 30m2 / 323ft2
AMENITIES
TV and DVD player
Luxury bath amenities
Nightly turndown
Wireless internet
Butler service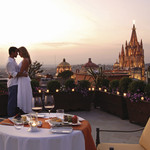 Love Serenata
From the beauty of the Sierra Madre Mountains to the delicate flavors of Andanza, steal someone special away to one of the most romantic Mexico vacation destinations.
Read more and book
COMPARE ACCOMMODATION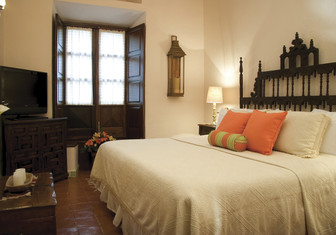 Rooms
King-size bed
Talavera-tiled bathroom
Some feature city views
Size: from 14m2 / 150ft2
Full details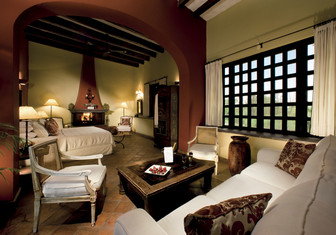 Suites
King-size bed
Talavera-tiled bathroom
Separate sitting area
Size: from 30m2 / 323ft2
Presidential Suite
King-size bed
Separate lounge
Two terraces
Full details