Goethe's Sicilian Journey
"To have seen Italy without having seen Sicily is not to have seen Italy at all, for Sicily is the clue to everything." So wrote Johann Wolfgang Von Goethe, after visiting the island in 1787. When his musings were published as part of Italian Journey, many flocked to the island, buoyed by his descriptions of its enchanting beauty. Over 200 years on, we reimagine the German writer's Sicilian adventure.
HAVING ARRIVED IN SICILY ON 30 MARCH, Goethe had already travelled far and wide by the time he reached Taormina on 7 May. Yet he gives no sense of being numb to the island's charms. In fact, Goethe reserved some of his most resonant praise for this stunning seaside town:
"We are looking down from a small terrace, looking over this beautiful seashore, seeing roses and hearing nightingales, which, we are told, sing for six months without stopping"
His lyrical prose certainly captures Sicily's breathtaking beauty. After visiting Taormina, he went on to write that he was:
"all the more ready to yield to a desire of mine which had been growing ever stronger: namely, to take the magnificent scenery which surrounded me, the sea, the islands, the harbours, and bring it to life in noble poetic images, to compose in their presence and out of them a more homogenous and harmonious work than any I had written before. The purity of the sky, the tang of the sea air, the haze which, as it were, dissolved mountains, sky and sea into one element—all these were food for my thoughts."
It's a description that could well be applied to the view from Villa Sant'Andrea, A Belmond Hotel, Taormina Mare. Stand on your terrace and take in the stunning surrounds: the curve of the shore; the crystal clear Ionian Sea; the flowering bougainvillea. You may well feel inspired. Goethe certainly did.
Indeed, this sense of brilliance has been echoed by many of our guests. From Dumas to Dali, Wagner to Wilde, visiting artists have left profoundly changed.
Truman Capote enjoyed la dolce vita so much he stayed at Grand Hotel Timeo, A Belmond Hotel, Taormina for two years. D. H. Lawrence was inspired to write Lady Chatterley's Lover on its terrace, after a chance encounter in the gardens with Lady Florence Trevelyan.
Grand Hotel Timeo boasts Taormina's finest views. They're the same breathtaking panoramas Goethe enjoyed from the neighbouring Greek Theatre. It is a rare thing for a writer to admit being lost for words, but he readily accepted the overwhelming impact of the sight:
"Thank goodness everything we saw today has been sufficiently described already… [We] could not tear ourselves away until after sunset. To watch this landscape, so remarkable in every aspect, slowly sinking into darkness, was an incredibly beautiful sight."
No audience in any other theatre ever beheld such a view.
Johann Wolfgang Von Goethe
Many have suggested that the views from the Greek Theatre—and Grand Hotel Timeo—are among the most striking on earth. Certainly, no visit to Taormina would be complete without climbing the cliffs and seeing them for yourself. Should you really want to get into the spirit of things, you can make the ascent on foot as Goethe did. We recommend taking the cable car, however. Running every 15 minutes from Mazzarò Bay, it takes you right into the heart of town. Savour the short walk up to the ancient amphitheatre and prepare for what Goethe described as "a stupendous work of Art and Nature". Take a seat high in the theatre's terraces and reflect on the writer's assertion that:
"no audience in any other theatre ever beheld such a view. Citadels stand perched on higher cliffs to the right; down below lies the town… Straight ahead one sees the long ridge of Etna, to the left the coastline as far as Catania or even Syracuse, and the whole panorama is capped by the huge, fuming, fiery mountain, the look of which, tempered by distance and atmosphere, is, however, more friendly than forbidding."
As Goethe discovered all those years ago, such dramatic panoramas demand more than a cursory glance. You could gaze for hours and still feel under their spell. Wander next door to treat your tastebuds as you indulge your eyes. Sip our specialty Etna spritz on our famed Literary Terrace before heading to Timeo Restaurant to dine under the stars. Enjoying elegant Sicilian plates while Etna puffs away on the horizon, is nothing short of divine.
Taormina enraptures and captivates. When the time comes to leave, you'll no doubt think it's too soon. Don't worry. Its sights linger long in the memory. Can't get them off your mind? Follow Goethe's lead and author your very own Sicilian adventure.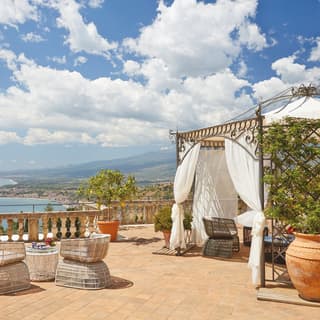 A Sicilian hideaway that fuels the imagination
Grand Hotel Timeo
Find out more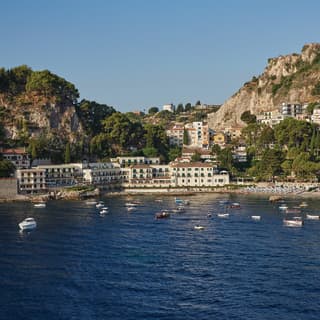 Old-world glamour on the Sicilian coast
Villa Sant'Andrea
Find out more