Open Kitchen:
The Sweet Mastermind of Belmond Le Manoir
You'll always find a twinkle in the eye of Chef Patissier Benoit Blin and it's not from all the sugar. It sparks from a lifelong passion for patisserie excellence, first ignited in the bakery of a little Normandy town.
Chef Blin's is a name so synonymous with patisserie perfection, you'd be forgiven for thinking that's all that needs said. But cast just a fleeting glance over his many culinary achievements—Master of Culinary Arts, Pastry Chef of the Year and UK Pastry Club Chairman to name just a few—and you'll discover there's a whole lot more to his story.
Young Benoit grew up on a street with a bakery at both ends. He soon became friends with the baker's sons and found that if he hung around long enough, he might be offered a sweet treat to try. It wasn't long before he developed a discerning sweet tooth. His first apprenticeship was at one of these bakeries, before he completed a second as a chef patissier.
In 1991, Benoit arrived at the Hotel Ritz in Paris after a year of national service at the Normandy Hotel. He had landed the position of senior sous chef of pastry and took his place among some of France's finest culinary craftsmen. Surrounded by a host of inspirational characters, Chef Blin honed his craft and began to strive beyond simple perfection.
Just four years later, in 1995, Chef Raymond Blanc OBE managed to tempt Benoit across the channel to England. Here, he began a career at the iconic Belmond Le Manoir aux Quat'Saisonsin Oxfordshire, where he continues to work closely with Raymond. Today, he stands at the helm of a pastry team, 15 strong. His desserts are a spectacular final flourish in the hotel's famously exquisite two Michelin-starred menus.
What's the best meal you've ever had?Certainly the most memorable dinner I have ever had was with my friend Gary. We were entertained by Alain Ducasse in his kitchen at l'Hôtel de Paris in Monaco. Our dinner was personally prepared by Executive Head Chef Franck Cerutti and we were served in a small glass room, nicknamed 'The Aquarium'. Being served by Franck himself, and his sommelier was a very special experience—one I will never forget.
The first dish you ever learned to cook?I started young as an apprentice baker, learning to make breads first. One of my little tasks was making chouquettes—dots of choux pastry covered with nibbed sugar. When baked, the sugar creates a lovely caramel base and they really look like little nuggets of gold. This is one of my guilty pleasures, still to this day! You will often find them in our petits fours selection at Belmond Le Manoir aux Quat'Saisons.
Which one ingredient do you love to work with right now?Strawberries from France, of course. But my favourite overall ingredient, although no longer popular, is sugar. If you control the quantity you are putting into your recipes, it allows you to create texture in your recipes and lift the flavours, almost like a seasoning element. Crucially, it also helps to make beautiful sugar show-pieces and allows you to work with your artistic side.
Where do you find your inspiration?My biggest inspiration comes from seasonal ingredients, like strawberries and apples. I extract the textures and flavours to create a dish that revolves around these ingredients, and the guests enjoy them for what they are.
What is your go-to dish when you're in a rush?At home, a quick soufflé and my mother's rice pudding recipe. Her rice pudding has a beautiful creamy texture, but it is simple to make, and everybody loves it.
Appetizer or dessertDessert, definitely. I have got a very sweet tooth.
Which item on your menu best represents you?When in season, we have "A Theme on Strawberries" on the menu. It's one ingredient, broken down into textures, temperatures and flavours.
If you could go anywhere in the world tomorrow, where would you go?I'd go to San Francisco. There's an interesting and eclectic food culture there that I would love to discover. I love sourdough and the recipes from San Francisco have conquered the world. Then I'd take a food road trip in a V8 along the California coast. They now have world renowned restaurants and there's also the Napa Valley with their fantastic wines.
Words to live by?Life is a fight, work is your weapon.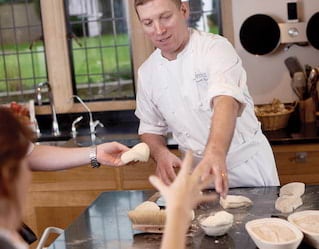 Bake with Benoit
Head to the Raymond Blanc Cookery School for a patisserie masterclass led by Chef Benoit Blin. Your dough is set to rise above the rest with the Beginners Bread course. Or discover the art of confectionery with a course in Chocolate Heaven. Each full day class with Benoit includes a delicious informal lunch in the cookery school and a completion certificate to take home.
Choose your course
B