Discover Koh Samui
NAPASAI, A BELMOND HOTEL, KOH SAMUI
65/10 Baan Tai, Maenam, Koh Samui, Surat Thani, 84330, Thailand
Thailand's tropical islands are all distinctly unique in character. Koh Samui is the second largest in a collection that forms Ang Thong National Marine Park. This region is the country's most breathtaking natural paradise, in a land where the competition is fierce. You'll find the culture of relaxed indulgence irresistible here—the island's balmy weather and tranquil vibes permeate the soul.

Napasai is nestled in the coastline of the island's north shore. Our blissful retreat is one of the most indulgent hotels in Koh Samui. Thailand's beach bungalow tradition is elevated to unrivalled luxury here. Pad across platinum sands on your doorstep by moonlight, before you sink into an island dream.
Napasai
65/10 Baan Tai, Maenam, Koh Samui
Surat Thani, 84330, Thailand
Our exquisite luxury hotel in Koh Samui is within easy reach. You'll find us...
a 15-minute drive from the Fisherman's Village Market
a 15-minute drive from Nathon Ferry Pier
a 25-minute drive from Koh Samui Airport (USM)
a 15-minute drive from the Fisherman's Village Market
Open in Google Maps
Destination Guide: Unlock Koh Samui
Thailand has captured the imagination of travellers across the world as a country steeped in spiritual tradition. Surrounded by the sparkling waters of the Gulf of Thailand, Koh Samui has managed to channel the spiritual sense of the mainland, while championing the tropical charm of an island paradise.
D
Concierge Recommendations
Secret Buddha Garden
In the heart of Koh Samui's dense jungle is a secret oasis dedicated to the Buddha. Built by a local fruit farmer, the magic garden is almost totally unreachable by motor vehicle. Set off on an enchanting jungle safari by elephant to uncover this hidden gem.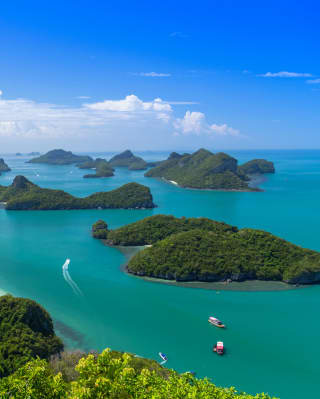 Five Islands Above and Below
The Five Islands rise from the waters surrounding Koh Samui's southern coast. Known in Thai as "Koh Si Koh Ha" (four islands, five islands) one remains permanently veiled in the shadows of the other four. Dive in and explore the crystal waters around this hidden paradise, before enjoying a delicious picnic on a secret beach.
Thai Taster
Thai cuisine is celebrated all around the world, and for good reason. Take a masterclass with our talented chefs to add delicious Thai recipes to your repertoire. After, experience a true taste of Thailand as you tuck into a four-course menu of traditional delights.