Discover Luang Prabang
LA RÉSIDENCE PHOU VAO, A BELMOND HOTEL, LUANG PRABANG
Luang Prabang, Lao PDR, 84330
If you're looking for somewhere to stay in Laos, Luang Prabang is unmissable. This ancient Kingdom is tucked between Laos' northern mountains. It sprung from the earth around 1300 years ago under the rule of a Thai prince, Khun Lo. Later, the city passed hands amongst warring local tribes—each infusing Luang Prabang with their unique cultures and traditions.

Today, this gentle oasis is a vibrant tapestry of colour and heritage. Gilded temples vie for attention against emerald coated mountains. The russet Mekong River slices through the valley and each morning at dawn a ribbon of saffron marks an ancient ritual of prayer. La Résidence Phou Vao is just steps from the beautifully-preserved old town. Perch by the pool of our hilltop hideaway and you can gaze across the UNESCO World Heritage site below. With Belmond, Luang Prabang unfolds before you, waiting to be explored.
La Résidence Phou Vao
PO Box 50, Phouvao Road
Luang Prabang, Lao PDR 0600
La Résidence Phou Vao is within easy reach. You'll find us...
a 12-minute drive from Luang Prabang International Airport (LPQ)
a 15-minute drive from central Luang Prabang
a 50-minute drive from the Kiang Si Waterfall
a 40-minute flight from Vientiane City
Open in Google Maps
Destination Guide: Unlock Luang Prabang
Luang Prabang, the former royal capital of the Lan Xang Kingdom, is now a UNESCO World Heritage Site. The city's ancient temples and romantic architecture breathe history back into the modern era. Here, you'll discover a gateway into Laos' past—once you cross the threshold, the pages of history are yours to explore.
Read the guide
D
Concierge Recommendations
Baci Blessings
The Baci ceremony is one of Laos' oldest traditions. For this enchanting ritual, you'll be joined by our local village shaman.He will perform restorative blessings designed to strengthen bonds and leave you feeling renewed.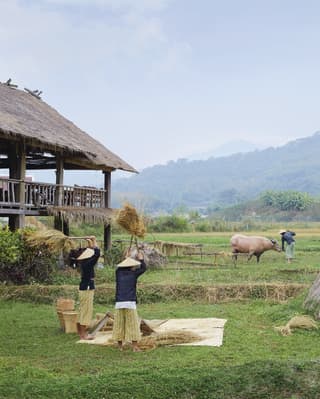 Life on a Laotian Farm
Agriculture is the life-force of rural Laos. The landscape surrounding Luang Prabang is beautifully carved into traditional farms and rice paddies. Head out to a nearby organic rice farm to test your ploughing and harvesting skills in old-world style.
Tak Bat at Sunrise
Rise at dawn to take part in Tak Bat. In an inspiring start to your day, witness the procession of orange-robed monks, then present them with tributes and gifts of food in an ancient ritual. After, there's time to explore the local market before you enjoy a sparkling sunrise cruise on the Mekong River.