DINING
Refined Andean flavours, served with sophisticated flare, against a backdrop of stunning scenery… Belmond Andean Explorer promises a feast for all the senses.
Take your seat and anticipate one of Peru's most unique dining experiences.
Soar to new culinary heights as you sample dishes from world-renowned creative chef and ambassador of Peruvian cuisine, Diego Muñoz. His distinctive take on regional classics draws inspiration from the rich landscapes of the Peruvian Andes.
Savour a feast in the train's two beautiful dining carriages—Llama and Muña. Both are bright, elegant spaces, a fitting stage for an unforgettable dining experience.
Every journey includes lunch and dinner each day. Delicious breakfasts are the ideal way to prepare for a day of discovery, while an irresistible afternoon tea is the perfect pick-me-up as the day goes on.
If you still have an appetite, you'll find a room service menu in your cabin. A selection of treats are available 24 hours a day.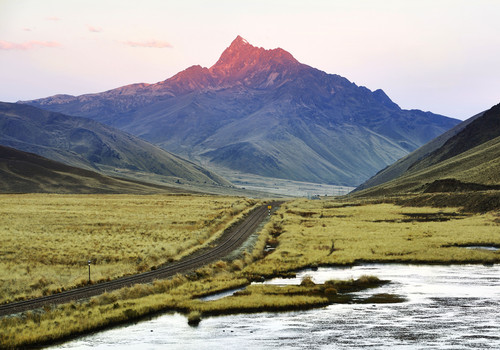 Experience vibrant cities and spellbinding natural wonders.
Read more and book