EXCLUSIVE SUITES
With stylish decor and indulgent additional space, sink into our Exclusive Suites and experience some of the most luxurious accommodation Italy has to offer.
Reservations

Please note: the hotel will be closed from 29/10/2017 – 11/04/2018
Reservations: 1 800 237 1236
An expansive terrace lets you bask in the sunshine and enjoy panoramic views of the bay.
The spacious living area offers a peaceful haven to relax in, or retreat to the privacy of the exquisitely decorated bedroom.
An opulent bathroom has a separate shower, bathtub and double vanity basin.
For more information, download the Exclusive Suites Factsheet >
DETAILS
King-sized or twin beds
Marble bathroom
Large living room and terrace
Size: 52 m2 / 560 ft2
AMENITIES
Satellite TV
Bluetooth speaker
Nespresso machine
Climate control
Wireless internet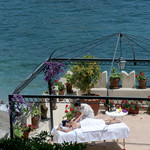 Sensorial Journey
Be transformed and rejuvenated by a sensuous spa break to this private beach resort.
Read more and book
COMPARE ACCOMMODATION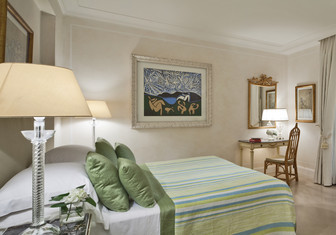 Double Rooms
King-sized or twin beds
Spacious bathroom
Size: from 18 m2 / 194 ft2
Full details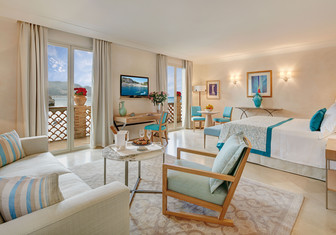 Junior Suites
King-sized or twin beds
Marble bathroom
Cosy sitting area
Size: from 36 m2 / 387 ft2
Full details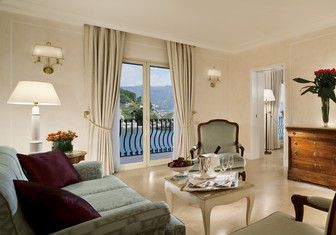 Suites
King-sized or twin beds
Marble bathroom
Lounge and balcony
Size: from 40 m2 / 430 ft2
Full details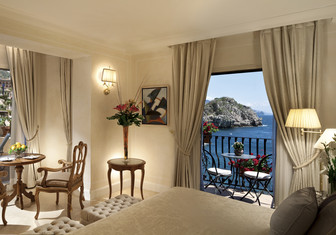 Exclusive Suites
King-sized or twin beds
Marble bathroom
Large living room and terrace
Size: 52 m2 / 560 ft2