WELLNESS
Belmond Road to Mandalay seamlessly blends the spirit of adventure with the serenity of a spa cruise. Invest in some essential self-care within our indulgent wellbeing area.
During your cruise, luxury can be found in a range of facilities that ensure your comfort and wellbeing. Generous and attentive staff are on hand to take care of the details, while you devote yourself to experiencing the marvels of Myanmar as the ship glides past.
Take a refreshing dip in the on-deck swimming pool or use the state-of-the-art fitness equipment in the wellbeing area. This haven of relaxation is where you can enjoy pampering massages and spa treatments, or simply a hair makeover and manicure before dinner.
Yoga and tai chi sessions take place on deck and at specially chosen venues on shore.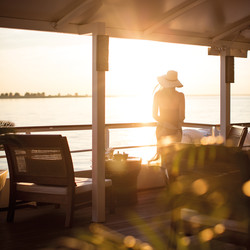 Myanmar Mindfulness Retreat
Find your inner balance on a seven-night cruise from Bagan to Mandalay. Take part in serene meditation sessions in timeless pagodas and temples. Enjoy unforgettable open-air yoga classes as you meander along the water. Experts Brian Hilliard and Shannon Van Staden of Mindfulness Journeys will be on board to lead the way. .
Find out more
Plan your Journey