EVENTS
Treat friends, colleagues or clients to a memorable event in a supremely luxurious venue.
With glorious views of Funchal Bay and the lush tropical gardens, our six fully-equipped meeting and reception venues are perfect for celebrations, meetings and incentives.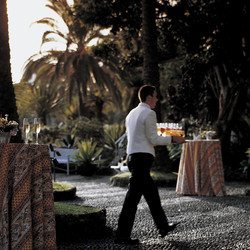 Catering Services
From cocktail parties and coffee breaks to fine dining and themed evenings, we provide our guests with the highest quality service. You'll also enjoy a truly unforgettable location throughout the day and into the evening.
Incentives

From deep-sea fishing and hiking trips, to a safari or a round of golf, at Belmond Reid's Palace we offer a wide range of activities for you to enjoy.
It's the perfect destination for teambuilding excursions, or simply as a reward for your hardworking team.
Find out more
Themed Parties

We'll help you add extra glitz to your event with a creative themed evening. For example, consider...
Madeira Night
Fans of folk music will love this evening of dance and fine food. Centred on the pool areas with awe-inspiring views over Funchal Bay and the Atlantic Ocean, traditional bands and waiters in local dress complete the picture.
Groups up to 120 people
Madeira Wine Company with Vintage Car Transfer
Set in the wine cellar of a former 17th century Franciscan monastery, you'll arrive in a vintage car from the 1920s, '30s or '40s. Taste four varieties of Madeira wine and take a bottle home that was produced on the same day, month and year as your date of birth.
Groups up to 90 people
1920s Evening in The Dining Room
Leave the modern age behind and step back in time to the 1920s. An 'old timer' car sets the scene and dinner is served to a backdrop of black & white silent movies, as well as tap dancers and a fun casino.
Groups up to 190 people
Murder Mystery Dinner
Don your detective hat and play out head-scratching scenarios. Plots start when the cocktails are served and the main action commences during the gourmet dinner served in The Dining Room or Les Faunes restaurant.
Groups up to 100 persons
Medieval Night at Sao Tiago Fort
Rewind to a time when jousting, royal feasts, romance and knights in shining armour ruled the land. A group of actors introduce you to the music, dances, sights and sounds of the 11th century. The backdrop to this extraordinary party is the majestic Sao Tiago Fort—the perfect place for some medieval make believe.
Groups up to 120 people
Cocktail Parties
Whatever your favourite tipple, you can enjoy it to the full with our pre-arranged parties. Revel in the exotic Palm Garden, the stylish Brisa do Mar, the classic Tea Lounge or a sailing boat to sample the treasures of Madeira from the waves.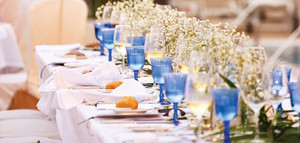 Please contact us directly to discuss your requirements and we will be delighted to help.
Enquire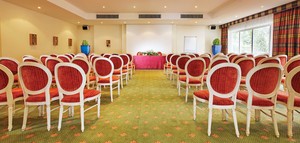 Find great spaces for meetings and celebrations.
Find out more