HYPNÔZE SPA
Inspired by Inca and Andean culture, Hypnôze Spa has developed treatments to improve physical, mental and emotional wellbeing.
Hypnôze has created its own brand of organic products using indigenous Peruvian ingredients, such as herbs, andean salts and coca leaves. It enjoys a reputation as the best luxury destination spa Cusco has to offer.
Surrounded by a peaceful private patio, the Spa offers five single treatment rooms and one double room with private hot tub. Some treatment rooms also feature glass floors, exposing the Inca wall underneath.
You will also find a special relaxation room. Inside, a bar serves soothing herbal teas and healthy snacks.
Book a Treatment

Peruse the spa menu and book your treatment in advance.
Read more and book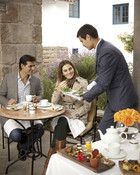 BELMOND GIFT CARDS
A sensational dining experience, an exclusive tour or a relaxing spa treatment...
Our gift cards may be used towards a variety of services at Belmond Palacio Nazarenas or across our iconic hotels, trains or river cruises worldwide.
Learn more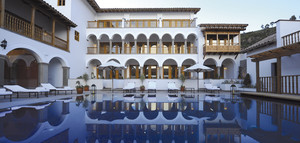 Enjoy holistic classes beside the pool, with options including yoga, pilates, qigong and meditation. Please let us know your preferences and we will find the best class for you.
Contact us
Holistic Fitness
Combine luxurious accommodation with a pampering tailor-made visit to Hypnôze Spa.
Find out more