ONE BEDROOM SUITES
The dazzling One Bedroom Suites offer two separate areas in which to fully relax.
Reservations

Step into your own personal sanctuary in the heart of this luxury hotel. Rooms benefit from uniquely high ceilings and peerless views across the lush hotel garden.
Befitting this celebrated Cusco hotel, the extra-large bathrooms feature Peruvian travertine marble and underfloor heating.
All One Bedroom Suites can be delicately scented with healing essential aromas of Andean flowers and herbs. You may also choose to have your room enriched with oxygen to help combat altitude sickness.
DETAILS
King-sized or twin poster beds
Peruvian marble bathrooms
Spacious lounge
Size: from 57 m2 to 68 m2 / 613 ft2 to 731 ft2
AMENITIES
24 hour butler service
Bar with espresso and tea making facilities, nibbles and pisco station
Satellite TV and sound system
Wireless internet and iPad with Nazarenas' App
In-suite boutique (upon request)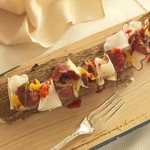 Taste of Cusco
Discover the tastes and textures of Peruvian cuisine with our leading chefs.
Read more and book
COMPARE ACCOMMODATION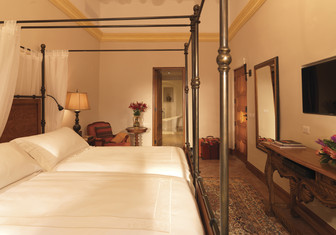 Junior Suites
King-size or twin poster beds
Spacious bathroom
Size: up to 37 m2 / 398 ft2
Full details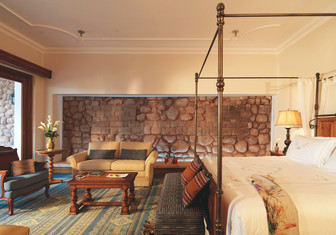 Studio Suites
King-sized or twin poster beds
Peruvian marble bathrooms
Size: up to 74 m2 / 796 ft2
Full details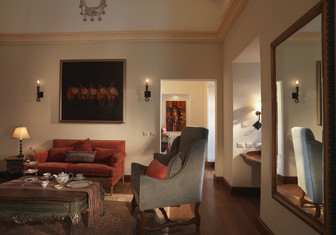 One Bedroom Suites
King-sized or twin poster beds
Spacious lounge
Size: up to 68 m2 / 731 ft2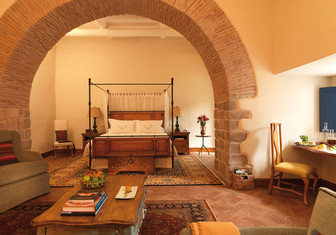 Signature Suites
King-sized beds
Beautiful balconies
Size: up to 130 m2 / 1,399 ft2
Full details