Koh Samui, Thailand
The resort's exclusive, picturesque split-level beach is the largest on the island. The surrounding 17 acres of lush tropical garden further add to the sense of romantic privacy.
Koh Samui is one of the major islands in the Gulf of Thailand. Stretching 1860 km north to south, Thailand has one of the most diverse climates in South East Asia. It has land borders with Myanmar, Laos, Cambodia and Malaysia.
Getting Here
Belmond Napasai is a 25-minute transfer away from Koh Samui International Airport which is reached by regular flights departing from Bangkok. Several ferry and jetboat companies also operate from Surat Thani.
Taxis are readily available outside the airport, or transfers can be arranged when you book online.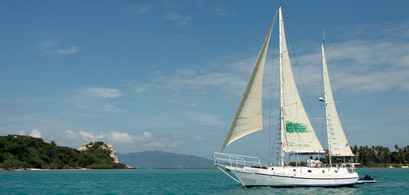 Make the most of your stay in Thailand. Tourist attractions are easily reached from Belmond Napasai, or choose to enjoy our selection of exclusive resort activities.
Find out more