EVENTS
Whether meetings or celebrations, set the stage at one of the top Playa del Carmen resorts. With Belmond, Riviera Maya events are sure to be unforgettable.
El Violoncello meeting room can accommodate up to 50 guests. It is equipped with high-speed internet, projection screens and air-conditioning. For added comfort there is a restroom and terrace for refreshments.
Or take advantage of the resort's exquisite surroundings and gather al fresco. By the pool, under the palms or on the sands of Maroma beach, each setting is unique.
Time out will be time well spent. Bring teams together with activities such as deep-sea fishing, scuba diving or golf. Later unwind with a deep-tissue massage or a unique temazcal Mayan-style steam bath.
A personalised service will ensure the needs of the whole group are met. From start to finish our flexible team will take care of every request.
Group Rate

Take advantage of this special offer and host an unforgettable event.
Rates from US$265 per room per night from June – December 2017, including breakfast.
Please note: Minimum 10 rooms. VAT not included. Download details >
Enquire now
Inspiring incentives

Whether you're out to impress clients or rewarding your top employees, trawl the teeming waters of the Yucatan on a staffed deep-sea fishing yacht.
Anglers can revel in the rich pickings of the shallows. Or enjoy the serene sands of Boca Paila lodge—an oasis for saltwater fly fishers. Let our chefs prepare your catch of the day for a delicious dinner.
Cast your line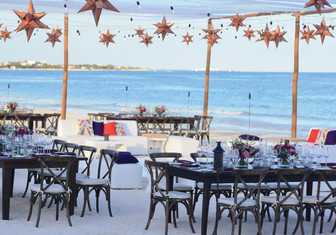 Please contact us directly to discuss your requirements and we will be delighted to help.
Enquire