CSR Policy
Belmond Le Manoir aux Quat'Saisons is committed to improving its environmental impact on the local and global community through its ethical and sustainable policies. By engaging locally, nationally and internationally with people, we aim to create a more responsible society. We encourage our staff, suppliers and guests to help us achieve more and create a better future.
Community & Charity
We work closely with our chosen charities and local schools and encourage staff to get involved in education initiatives, mostly by volunteering in careers-based activities.
Purchasing Policies
"We choose our suppliers carefully and visit producers whenever possible. This means we are satisfied that acceptable standards of stocking densities, medication and feed are met (allowing us to assure our guests' safety). We rely on reputable assurance schemes and government-regulated standards. We take pride in these high standards and our guests should expect nothing less."
Fish
Raymond Blanc and Belmond Le Manoir aux Quat'Saisons were among the first to use MSC (Marine Stewardship Council) suppliers and have been doing so for many years.
To aim for all our suppliers to be accountable and responsible
To not utilise fish during their spawning season
To ensure we know the minimum size for all species we use
To use fish caught by sustainable, ethical methods for each species, as advised by MSC (i.e. line caught, hand dived, etc)
When sustainable fisheries are unavailable, we will use fish from the best quality, organically farmed fisheries
For more information download our Menu Specifications
Dairy
Our eggs must be free-range or organic
30% of our cheese is from British artisan producers and the remainder of all our cheese comes from within Europe
Specification data sheets are kept for all produce
We ensure all suppliers/produce fall under at least one of our chosen assurance schemes
We carry out periodic tasting sessions on all produce to include local, recommended, past, present and new suppliers to find the best quality product
Vegetables
To respect the rules of seasonality
To use as much of our organic garden produce as possible
To supplement with produce from local farms and growers as much as possible
To endeavour not to use any genetically modified (GM) produce
To use organic where possible—if not we use a quality assurance scheme such as LEAF
To carry out periodic tasting sessions on all produce
To use our experience and knowledge so we can choose food which is traceable, ethical and from a sustainable source. Specification sheets must be kept on all produce
Meat
All meat products must be free-range as a minimum standard and organic as the norm
Specification data sheets to be kept for all produce
To ensure all suppliers/produce falls under at least one of our chosen assurance schemes
To carry out periodic tasting sessions on all produce
Game suppliers to have current licenses and periodic audits by law
To source as much as possible from farms and producers local to the hotel

Culture & Communication - Custodians of Responsible Luxury
Belmond Le Manoir has a committed eco-brigade (Custodians of Responsible Luxury). The brigade is made up of employees with a passion for all things green. There are 17 internal members and one honouree guest, and all departments are involved. The brigade meets monthly and minutes are written, recorded and distributed to all employees.
Initiatives
Can crushing scheme
Fat waste recycling
Soap bag initiative
Using Belu water as our primary supplier
Eco information booklet for guests
Introducing a new IPTV system, which helps cut down on the printing of in-house brochures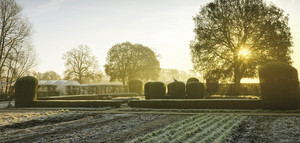 Our carefully selected partners help us offer the very best for our guests.
Find out more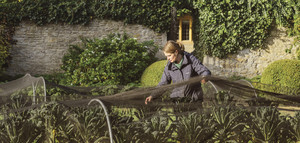 We have developed a unique relationship with our suppliers, based on trust and shared values.
Find out more