RAYMOND BLANC
Raymond Blanc's many successes have culminated in the dreamlike Belmond Le Manoir aux Quat'Saisons. Discover more of the fascinating story behind this celebrated Michelin star chef.
Early Life
Raymond Blanc was born in a tiny rural village near Besançon, eastern France. His two greatest inspirations were the terroir of the Franche-Comté region and his mother, the formidable Maman Blanc. She lovingly created family meals bursting with fresh, local and seasonal flavours.
He began his career as a waiter in Oxfordshire. One day, Raymond took over the kitchen when the chef was unwell. The rest, as they say, is history.
He and his wife Jenny opened their first restaurant, Les Quat'Saisons, in Oxford in 1977. An overnight success, it won Egon Ronay Restaurant of the Year.
The Hotel

1984 saw the opening of the hotel, combining breathtaking surroundings with gastronomic excellence.
"I had in mind a small house in the country, but I fell in love with Great Milton Manor, set in 30 acres. With the help of a few friends it was transformed into a magnificent country house hotel."
Raymond aimed to create a place where guests could relax and savour the surroundings. Working with some of the best interior designers in the UK, he transformed the rooms into stylish and unique palaces.
The restaurant swiftly earned two Michelin stars the year of its opening, and, remarkably, has held them ever since. Stunning gardens are the envy of botanists worldwide. The Raymond Blanc Cookery School, opened in 1991, attracts a constant stream of budding chefs.
A Passion for Seasonality

Raymond is known globally for his passion for seasonal, organic produce. When sourcing food for his restaurant, he makes sure to know everything about its provenance. Rarely can a chef tell you exactly where the milk in your breakfast came from.
With his dedicated gardeners, he has cultivated herb beds in which 70 traditional and exotic varieties thrive. A two-acre vegetable garden produces over 90 types of vegetable. A mushroom garden sprouts around 20 edible species, and an orchard brings in beautiful apples, pears and quinces.
He champions an ethical approach to cooking and is devoted to energy efficiency and recycling. Belmond Le Manoir is viewed by many in the hotel and restaurant industry as the model to aspire to.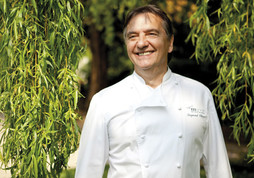 Visit Raymond's Blog and find out the latest from Raymond Blanc himself.
Find out more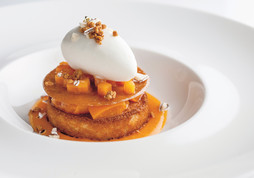 New recipes each month, using the best of the season's produce, including quick and easy suppers and tasty desserts.
Be inspired