Bali, Indonesia
Bali lies in the emerald belt of the tropics, one of the string of islands that make up Indonesia.
Jimbaran Bay is one Bali's top destinations, renowned for its pristine sands and calm, inviting waters. Belmond Jimbaran Puri sits at the heart of this wide bay, whose western outlook affords spectacular sunset views.
Located on the quiet southern tip of the island, the resort is a convenient 20 minutes' drive from Ngurah Rai International Airport.
Getting Here
Ngurah Rai International Airport is well-served by major international and domestic airlines. Daily flights run to and from the USA, Europe, Australia and Asia.
Most airlines fly to Singapore first, from where it's a short two-and-half hour flight to Bali.
Taxis are easily available from the airport to whisk you straight to the resort. You may also schedule a transfer when you book online »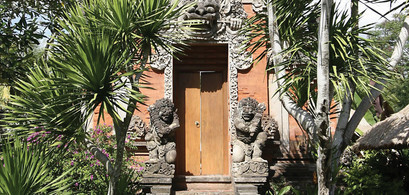 Make the most of your stay in Bali with our selection of exclusive activities and excursions.
Find out more