St. Michaels, Maryland
Steeped in history, Talbot County is at the heart of Maryland's iconic Eastern Shore. Discover the longest coastline in North America from the banks of the Miles River.
St. Michaels is one of the top Maryland vacation spots, within easy reach of other key destinations. The Inn at Perry Cabin by Belmond is only two hours from Washington DC, Baltimore and Philadelphia. New York City is only four hours away.
Getting Here
The resort is easily accessible by air. Baltimore-Washington International Airport is 90 minutes' drive away. Reagan National Airport (Washington DC) is less than two hours' away. For private charters, Easton Municipal Airport is only ten minutes from the Inn at Perry Cabin by Belmond.
If travelling by helicopter, please contact us to arrange your arrival.
Transfers can be arranged via outside companies. Contact the hotel for details.
These prices are for one-way transfers. Rates do not include variable fuel surcharge, tax and gratuity, and are subject to change. Arrival options can be selected online at the time of booking.
Limousines
There are several luxury chauffeur services available, also suitable for airport transfers.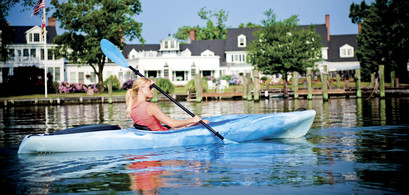 Make the most of your stay in St. Michaels with our selection of exclusive activities and excursions.
Find out more