From makers of fabulous hats to vibrant stained glass, a new generation of Irish creatives is taking the artistic world by storm. These innovators embody the vibrant spirit of Ireland—a passion shared by the Belmond Grand Hibernian train.
To thrive on a sea-sprayed island out in the North Atlantic demands ingenuity, innovation and more than a little creativity. This isolation, off the coast of mainland Europe, is something the Irish have turned to their advantage, time and again. The geography and topography of Ireland has made a profound impression on its creative expression, adding deep character to the country's creative output, as its rocky coast derives its character from centuries of Atlantic attrition.
While the Dark Ages enveloped Europe, Ireland was a seat of learning, known as the "island of saints and scholars". While the Roman Empire declined to colonise Hibernia, loosely translated as "the land of winter", a Celtic civilisation prospered, preserving the magic of the ancient world in Western Europe's oldest vernacular literature.
The Irish creative soul is self-reliant, looking to itself for inspiration rather than relying on metropolitan centres elsewhere to offer a lead. Indeed, it is this self-confidence and uniqueness of artistic vision that leads Irish artists to surprise New York, Paris and London with innovations that revive the flagging artistic life of those great cities, generation after generation. Think, for example, of Samuel Beckett, of James Joyce or playwright Brian Friel; think of Riverdance or the influence of U2.
Each is a manifestation of a rebellious spirit that is uniquely Irish: at once familiar and informal, it is a rebelliousness that enables any artform to stride forward. This, coupled with a simple, down-to-earth work ethic, means that the conditions for a vibrant creative culture have endured in Ireland. The Irish have always had a depth of authenticity to their creative output, as well as an easy familiarity that allows them to make friends readily—what's commonly referred to as "networking" these days.
As the hardships of the recent recession begin to recede, there is a new energy and vitality in the worlds of Irish arts and business. There is a renewed optimism and no creative act is possible without that. From successes in theatre and literature to recent ventures in business and native crafts, it is as if this ancient culture has found a new youth, where everything is possible. Here we meet just six of the many emerging talents on the crest on this new, creative wave.
by Ian Kilroy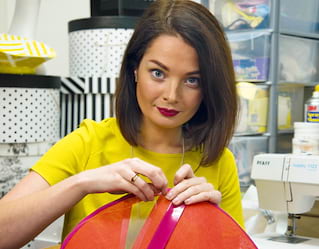 Martha Lynn, Milliner
Being made redundant from her job in an architect's office opened up a new chapter in the life of west of Ireland creative Martha Lynn. Inspired by her passion for hats, she went on to apprentice with some of the greatest names in international millinery: Irish native Philip Treacy and Englishman Stephen Jones. During that time, she worked on hats for the likes of Valentino and Galliano. Now her own work is attracting attention and for the past two years she's paraded her talent at prominent international fashion shows, to considerable acclaim.
"I learned a lot about seeking perfection from Philip Treacy and about creativity from Stephen Jones," says the young milliner, who likes to work with unusual materials such as Perspex, vinyl and even foam. "I like to try new things and am inspired by walking around hardware stores and looking at the materials there," she says.
Her fine art, especially sculptural training, is evident in the refined, ethereal craft of her hats, which are handmade in her Dublin studio. "Many of the hats are occasional," says Lynn, explaining that her unique creations are "often made for weddings or for outings to the Galway and Leopardstown Races".
M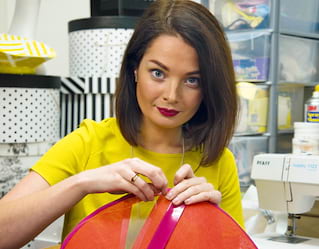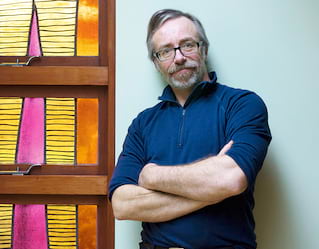 Peadar Lamb, Stained-Glass Artist
Dubliner Peadar Lamb works with methods of glass making that haven't changed much for 1,000 years. Yet his creations are vibrant and utterly contemporary. His commission for the Irish Repertory Theatre in New York is 27 feet wide, depicting famous scenes from Irish and Irish-American theatre. His luminous work for the National Maritime Museum in County Dublin portrays local maritime history—convict ships to Australia and local tragedies at sea. Working uniquely in every space, he has made glass that transforms with the seasons, with the blossoming of trees behind it, for instance—and light boxes that can be moved and displayed with the same effect in various locations.
"I'm always trying to capture the freshness of the original idea," says Lamb, who says that the quality of light he works with as a stained-glass artist differs somewhat from place to place and from month to month. "The light is different at different times of the year. Also, you can get a lovely crispness of light in New York, which you also get in Ireland, particularly in autumn. And we also have lots of sky and mists in Ireland, which adds another dimension."
Lamb, who is also a sculptor, sees light as "a force of nature" that he is also keenly aware of in his sculptures. It is, he says, "the fourth dimension" of his art. An upcoming high-profile commission for the centenary of the 1916 Irish Rebellion will be shown all over Ireland—he is also working on a piece for the Carlow County Museum, recently named best regional museum in Ireland. Welcome work, as the artist lost everything in a fire last year that totally destroyed his studio. Still, he remains upbeat. "I exist in the future," he says. "I exist in the work that hasn't been created yet. That's what excites me."
P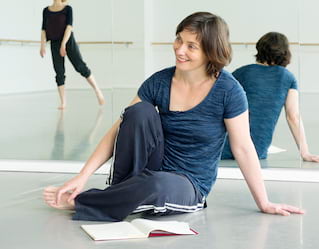 Liz Roche, Choreographer
One of Ireland's leading choreographers, Liz Roche has brought new vitality to the thriving Irish contemporary dance scene in recent years. After training in London's Contemporary Dance School, her career has taken her to France, New York, London and Asia, where she has choreographed for the National Opera of Korea.
Her recent work for Ireland's world-famous National Theatre, the Abbey Theatre, was the first time an Irish choreographer has been commissioned to create a full-length dance piece for the country's national stage. The work in question, Bastard Amber, was inspired by the great WB Yeats' poem Sailing to Byzantium, as well as the meditative golden paintings of late Irish artist Patrick Scott. It is a kind of spiritual quest through dance. But how would Roche herself describe the work?
"I wouldn't say my work is virtuosic; rather it is inspired by everyday movements, things I might see on the street, human interactions," says Roche. "I think it is important to put that on the stage for our consideration," she says. She says her work is "not dance theatre in that it is not narrative driven", but is concerned with pure, often abstract movement. It is, therefore, very representative of the growing contemporary dance scene in Ireland and Roche is happy that the word "contemporary" accurately describes her dance aesthetic and vision.
It is a vision that more and more audiences will see outside Ireland in the years ahead, as the future holds a number of international collaborations for this artist, most notably one coming up in Australia this summer, with a working title of Mapping Missing You—or maybe Time Over Distance Over Time, she hasn't quite decided yet. This new work will play the Dublin Dance Festival in May, before touring to Brisbane and Sydney.
L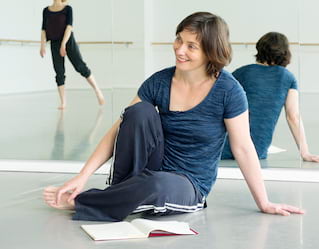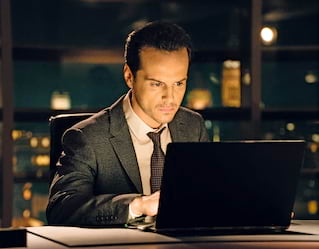 Andrew Scott, Actor
At 39, Andrew Scott might seem to be a little old to be termed the hottest young acting talent to come out of Ireland in recent years. Still, his amazing career trajectory makes it hard to deny he is the Irish screen star of the moment. This is a man who is certainly going places—and quickly.
With a prominent role in the latest Bond movie Spectre, where Scott plays Max Denbigh, one of Bond's Whitehall bosses, Scott has reached a whole new fanbase. His critically acclaimed and award-winning portrayal of Sherlock Holmes' nemesis, Moriarty, in the TV hit Sherlock, has kicked open the door of possibility for Scott. Now he is on the road to leaving supporting roles behind him. Indeed, he's on the cusp of playing major Hollywood leads.
What informs his drive is a longstanding and original love of acting: "I used to act as a child and I loved it, so I've tried never to stray too far from that," he says.
Staying true to his Dublin upbringing has enabled Scott to keep his equilibrium in the face of growing fame and some notoriously obsessive fans. The fact that he was a little older when he broke through (after years of theatre work in Dublin) may have helped engender the maturity with which he now handles fame.
"I think it's quite good for actors not to have a huge amount of scrutiny too early in their career," he says. "It can throw you off a little bit."
For Irish audiences, Scott remains "one of our own", well remembered for his theatre work, in plays such as Conor McPherson's Dublin Carol; or his TV and film work, first recognised in repeated Irish Film and Television Awards, before anyone further afield woke up to his talent.
Photo credit: Moviestore/REX Shutterstock
A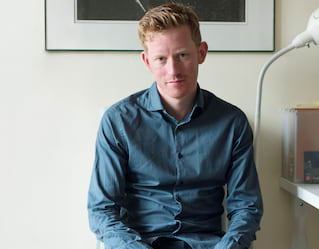 Colin Barrett, Writer
Colin Barrett, at 33, has already been described as a "new, young genius". Winner of the most recent Guardian First Book Award, for his short story collection Young Skins, the County Mayo man is at first a little taciturn about his recent success.
"The prize seemed to maintain the momentum of the book after it came out—to give it a second life," he says. He also seems more than a little overwhelmed by all the attention that came with winning: "Lots of people want to talk to me now."
Young Skins garnered praise for the quality of the writing—the sheer virtuosity of the sentences. Set in the fictional west of Ireland town of Glanbeigh, the stories are concerned with the typical cast of characters of any small town: bouncers, petrol pump attendants, drug addicts. Despite the dark and, at times, bleak depiction, there is still humour and redemption in the collection.
"As I was writing the stories it seemed to make sense, this fictional space … it freed up the writing," says Barrett. "Once you tilt reality a few degrees and go into an imaginative space it just makes the writing a lot more possible," he adds.
Currently working on a novel, Barrett says he came late to the form that has brought him such success. "I've tried everything, really," says Barrett. "I wrote a lot of poetry when I was younger. I tried writing novels before. I came to short stories third in that sequence. I gradually became aware of them and fell in love with the form then." With the Guardian Prize judges saying Barrett was a young writer "with a clear path ahead of him", expect to hear much more from him in the years ahead.
C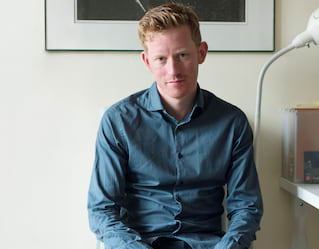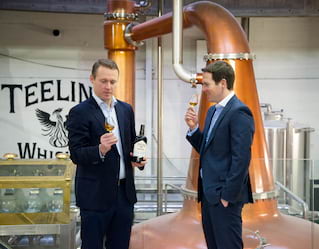 Stephen and Jack Teeling, Teeling Whiskey
Youth and confidence are the two words that best describe Dublin's first new whiskey distillery in 125 years. Equally, they apply to its founders, 34-year-old Dubliner Stephen Teeling and his brother Jack, who reopened the doors of the Teeling Whiskey Distillery in 2015, reviving the family business founded by Walter Teeling in 1782. Located in the heart of Dublin's independent "Liberties" area, the distillery and visitor centre is tastefully modern.
The brothers couldn't have picked a better time for their new venture. "Irish whiskey is the fastest growing spirit market in the world, with double digit growth every year," says Stephen. "We're undergoing a renaissance in Irish whiskey and we're hopefully making a whiskey for that next generation of whiskey drinker."
Innovation is the hallmark of the art of whiskey-making at Teeling, with new and fresh approaches to maturation—ageing in Californian Cabernet-Sauvignon barrels, for example, something never done in Irish whiskey before. It is this fresh take on an ancient Irish art that is appealing to a whole new and younger demographic of whiskey drinkers.
"We want to dare to be different. We want to constantly excite people with what we're doing," says Stephen. But he doesn't need to talk up his whiskey—it does that all by itself: having garnered positive reviews from some of the leading connoisseurs of the whiskey world, Teeling Whiskey is decidedly upwardly mobile.
S
Creative Tracks
The artistic and exuberant spirit of Ireland can be most palpably felt on Belmond Grand Hibernian, Ireland's first luxury overnight touring train. Step aboard in Dublin for one of the 2-,4- and 6-night journeys, and find your own inspiration among the many enchantments of the Emerald Isle.
Discover Ireland in style