Article
Celebrate Da Vinci
To mark 500 years of Leonardo's genius Belmond Villa San Michele is staging a host of unique festivities, from a dawn walk in his footsteps to an art exhibition channelling his spirit.
Leonardo da Vinci's mind-boggling achievements permeated practically every area of life. This is the man who, in the 15th century, devised the first flying machine, diving suit and armoured car.
He painted The Last Supper and The Mona Lisa and made monumental discoveries about the human anatomy. He combined his interests in mathematics, engineering, botany, geology, architecture, astronomy and philosophy with his extraordinary artistic ability. The drawings, etchings, blueprints and paintings he created continue to astound us today.
Events are being staged across Italy to honour the 500 year anniversary of his death. These include Leonardo3 – The World of Leonardo, an interactive exhibition in Milan taking a closer look at his inventions. There's a display on the theme of Leonardo's books at Museo Galileo in Florence. In Vinci, the artist's Tuscan birthplace, you can see his earliest surviving drawing—a landscape depicting the Arno Valley. While at the Biblioteca Reale in Turin, his restored self-portrait takes centre stage.
There's also many unique ways to celebrate at Belmond Villa San Michele.
Greet the dawn with Leonardo
The hotel shares a deep connection with da Vinci. It was in Montececeri Park, just above the hotel, that he famously tested his flying machine. It glided for a few metres before crashing, leaving its pilot with a broken leg but an undented spirit.
Set off on a magical walk from the hotel to the exact spot where Leonardo launched the machine. Heading out at dawn, trek through the lush landscape with a nature expert who will guide you through the hill of Montececeri.
You'll come across the 19 historic quarries of Pietra Serena, a precious grey sandstone favoured by Renaissance artists. Stroll through thick vegetation, planted after the quarries closed in the 1920s, and see the remains of cave storerooms hewed by the stonemasons. Finally, reach the square where Leonardo aimed to conquer the skies. There's a monument here that pays tribute to the endeavour.
Sit down at a shared table
Of all the polymath's accomplishments, food rarely gets a mention. Yet da Vinci had a strong interest in cooking and nutrition.
In the 1480s, years before he created his most famous works, he worked in Milan for the ruling Sforza family. Among his many roles there he was the Maestro dei Convivii, meaning he personally chose the food that would be served to the family. He experimented with herbs and spices and favoured healthy salads, fish and vegetables. He even invented gadgets to make a cook's life easier, including a spaghetti maker, pepper grinder and nutcracker.
In tribute, we invite you to sit down at a shared table in our gardens for a Leonardo-influenced menu. Ingenious dishes will be served from a stand designed exclusively for us by Il Sedicente Morad, inspired by Da Vinci's flying machine. The acclaimed street artist uses recycled and organic materials to create sculptures inspired by nature.
Toast to Leonardo
For a taste of genius, order Da Vinci's Dream in the Cloister Bar. This exclusive cocktail, designed by our artful bartenders, is inspired by Leonardo's first flight. They've taken the classic Paper Plane, a mix of bourbon, amaro and Aperol, and enhanced it with the spicy, scarlet-coloured Florentine liqueur alchermes, a Medici family favourite.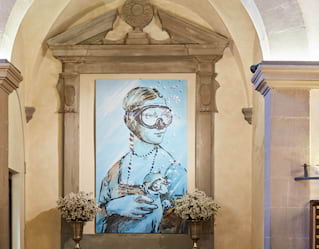 Art Inspirations
Throughout the hotel and gardens, look out for our curated collection of contemporary artworks inspired by the Renaissance giant. Featured artists include:
Blub – the anonymous street artist is known throughout Florence for his scuba mask-wearing Renaissance and contemporary icons. "For me they're about overcoming the fear of drowning," he explains.
Iguarnieri – the Florentine brothers keep the tradition of the Renaissance Botega alive in a contemporary style. Specialising in fresco techniques, many of their eye-catching paintings and sculptures evoke city landmarks.
Sandra Muss – the international multimedia artist explores "the mysteries of life, the magical characteristics of light and the strength of the elements". For Belmond Villa San Michele's gardens, she has created two glass mirror columns that recall the wings of a dragonfly.
A