Take a sip of 'Chaos'. One of the most iconic cocktails of the Venice Simplon-Orient-Express, just three ingredients conjure over 200 flavour elements. Discover the recipe, and get to know more about the man who created it.
"THE 1920S ARE at the heart of what we do," explains Walter Nisi, the Bar Manager of the Venice Simplon-Orient-Express. From the rich blue fabrics to the gleaming gold details and the sleek baby grand piano, it takes a dazzling personality to truly shine amongst the glamour of the train's bar car '3674'. Walter doesn't disappoint. "It was the Golden Age of cocktails. Prohibition was causing Americans to escape to Europe in search of the best drinks, and creativity flourished on the continent."
Walter first joined the celebrated train in 2008 as a barman, and became the Bar Manager in 2014. Two of his creations have gone on to become the train's most popular. The 'Guilty 12' is a loving homage to the Agatha Christie novel 'Murder on the Orient Express', intrinsically tied to the train's romantic history. Twelve mysterious ingredients each represent one of the culprits in the novel's plot.
The second is 'Chaos', a martini-style cocktail that is made up of only three ingredients that collectively offer over 200 different flavour elements. Monkey 47 gin provides 47 types of botanical extracts. A dash of Green Chartreuse provides almost 130 elements, and a final few drops of Boker's Bitters add 30 more. The resulting pearlescent concoction looks simple and elegant, belying the exciting, flavourful punch it packs. "That's how the cocktail gets its name," explains Walter, "the mix of flavours is so intense, it feels like it operates on the law of Chaos."
When it comes to mixology, Walter is a true creative artist. Whenever the train is chartered, he will personally call the party to talk about their favourite drinks and create something unique. "I'm driven by curiosity, an eagerness to make something new and exciting. This is not your typical bar, so we don't want guests to have a typical bar experience."
There is no denying that Walter takes a lot of pride in his work, but that pride is driven by his passion. When questioned on the best part of his job, there is no hesitation in his answer. "It's not a job!" he chuckles. "I don't want to sound too classic, but to do what you love every day? It's not a job, it is a passion. Nine years have gone so fast, and I feel very lucky."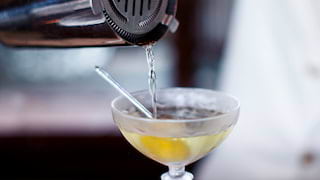 The Cocktail Recipe
Chaos