Discover St Petersburg
GRAND HOTEL EUROPE, A BELMOND HOTEL, ST PETERSBURG
Nevsky Prospekt, Mikhailovskaya Ulitsa 1/7
191186 St Petersburg, Russia
Like all the best operas, the city of St Petersburg draws you in, commanding every edge of your imagination. Fairytale spires and vast domes pierce the city skyline. Grand palaces and ornate cathedrals loom on the banks of the busy river Neva. As you make your way by car along the city's main vein, Nevsky Prospekt, tales of the past reach out at you from the architecture—you can hardly look away.

You'll find Grand Hotel Europe on Arts Square just off the northern end of Nevsky Prospekt. Our art-nouveau jewel is a shining example designer Fyodor Lidval's iconic style. The grand arches of Gostiny Dvor arcade and Pushkin's celebrated statue are just steps away. But walk through our doors and you'll enter a hidden world of glittering indulgence—your very own window into the soul of St Petersburg.
Grand Hotel Europe
Nevsky Prospekt, Mikhailovskaya Ulitsa 1/7
191186 St Petersburg, Russia
Our St Petersburg, Russia hotel is at the heart of the city. You'll find Grand Hotel Europe...
a 40-minute drive from Pulkovo Airport (LED)
a seven-minute stroll from the Church of the Saviour of the Spilled Blood
a ten-minute drive from the Hermitage Museum
a one-hour flight from Moscow
Open in Google Maps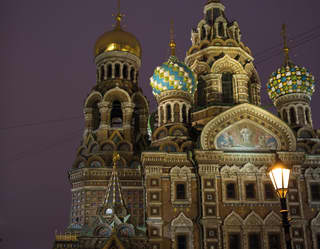 Destination Guide: The Playground of the Tsars
The treasures of St Petersburg unfold along the banks of the river Neva: the Peter and Paul fortress, the Summer Garden and the iconic Winter Palace. According to legend, Peter the Great was inspired to build his city here by a favourable omen. Arguably one of the most beautiful cities on earth, St Petersburg's founder was right to pay heed.
Read the guide
D
Concierge Recommendations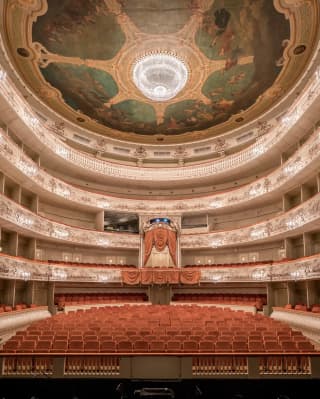 Private Box at the Mikhailovsky
Gaze out across the square from the hotel and you'll glimpse the iconic Mikhailovsky Theater. In 1866, Johann Strauss II made his way from room No.26 to perform at the Mikhailovsky, as have many of the world's greatest musicians. Follow in their footsteps and enjoy the best seats in the house—the hotel's private box.
New Holland Island
St Petersburg is so rich in artistic heritage. You could spend all your time here admiring beautiful works. But one of the greatest cultural sites in the city is also one of the newest — New Holland Island. A former secret naval base, the island itself has been around for centuries. Recently transformed, this stunning leisure park now houses the city's greatest collection of modern art.
Caviar Masterclass
Dabble in the art of Russia's "black gold" under the guidance of our caviar and vodka master. Uncover the subtle flavor notes across caviar varieties. Create a perfect pairing with Russia's best vodkas and most importantly, discover how not to suffer the next day.