Seasoned with Madeira magic
Showcasing local, seasonal cuisine, Reid's Palace boasts some of the best restaurants in Funchal. Go all out at Michelin-starred William; enjoy a casual moonlit dinner on the terrace of Ristorante Villa Cipriani; or join us for cocktails in our glitzy bar. There's a dining experience to suit every occasion.William   |   Villa Cipriani   |   Pool Terrace   |   Afternoon Tea   |   Gastrobar  
William Restaurant
William Restaurant
At Michelin-starred William Restaurant, Madeira's finest seasonal ingredients are brought to life with inventive, contemporary flair.
Dishes can be enjoyed in a sophisticated setting, against a backdrop of spectacular panoramic views.
Open Wednesday to Saturday, 7.30-11pm (last orders 9.30pm)
Reserve
Ristorante Villa Cipriani
Ristorante Villa Cipriani
Offering a slice of Italian life on the edge of the Atlantic Ocean...
Whether beneath cobalt blue skies or amid a vivid sunset, our alfresco terrace is the perfect place to settle back with a glass of wine and soak in the view. Influenced by Tuscan chef Daniele Sera, our Chef Marcelino Fernandes creates timeless Italian classics with a modern touch.
Open daily, 7pm-midnight (last orders 10.30pm)
Reserve
Pool Terrace
Pool Terrace
Indulge in breakfast with freshly-squeezed juices and sparkling wine, served daily from 7:30am–10:30am.
An all-day menu is available from 11am–6pm (food service until 5pm).
Reserve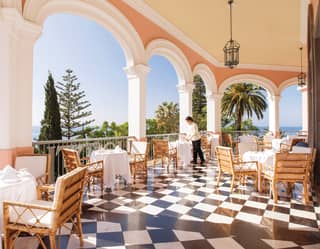 Afternoon Tea
Anticipate a truly timeless affair.
Choose from delicate finger sandwiches, freshly baked scones and homemade pastries, all accompanied by your choice from a selection of 24 teas or an indulgent glass of champagne. This elegant afternoon tradition is something Reid's Palace is proud to continue.
Available every day at 3pm and 4.30 pm.
Dress code: Smart casual (to maintain the elegance of this timeless experience, we kindly ask you to avoid wearing any sportswear, including t-shirts, flip flops or similar footwear)
Reserve
A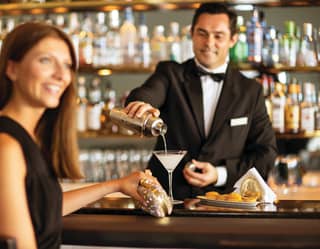 GastroBar
Explore our delectable cocktail menu in the glitzy surrounds of the bar. Our Head Barman Lui­s has been at the helm for decades. Try one of his signature cocktails like the Fine Poncha—an homage to this zesty traditional Madeiran drink. Or sip a Bago made with Sercial, one of the rarest and lightest grapes used in Madeira wine.
Take your seat on a balmy evening to enjoy live music, an irresistible beverage and a snack or light evening meal.
Opening times: Open daily, from 5pm-midnight (last orders at 11pm).
Download the menus:
Dining | Cocktails
G
Fauna and Flora Delight - A Gourmet Love Letter
When a Michelin-starred chef writes a love letter to his homeland in the form of a menu, it's an experience not to be missed.
Paying homage to the fresh, local produce and unique delicacies of Madeira, Chef Pestana mixes simplicity and grace to create an unparalleled tasting experience.
Gather your loved ones for a sublime feast, sitting at a beautiful antique table overlooking the wild Atlantic.
Menu:
Jade Cocktail
Regional beef tartar with fennel, cottage cheese and passion fruit
Blackbelly rosefish with black scabbardfish roe, potato stew and peppers, tamarillo emulsion
Banana, anise fragrance, lemon and mint
Red and white organic wine, mineral water, naturally flavoured water, coffee
Petits fours
(A plan-based option is also available)
Contact us to book
Fauna and Flora Delight - A Gourmet Love Letter
Thank you for your interest in Belmond.
Prefer to talk? You can call us on +351 291 71 71 71
Picnic Under the Palms
Add an authentic taste of Madeira to your picnic by letting Michelin-starred chef Luís Pestana conjure up an elegant alfresco spread.
Indulge in a delicious menu that ignites the imagination and brings out the best of the locale. Relax in comfort beneath rustling palm trees, savouring both the chef's specialities and the spellbinding ocean views.
Menu:
Cheese and charcuterie board, mango chutney, nuts, grapes and dates
Caesar salad with rocket lettuce and slices of parmesan
Quiche with smoked trout and zucchini
Sandwiches with smoked salmon, red onion and capers
Crostini with codfish brandade and black olives
Wrap with avocado, organic chicken, fresh and dried tomatoes
Muffins with rosemary and fleur de sel
Fruit kebab, Meringue lemon tarletes, Macarons, Bolas de Berlim (Cream-filled cakes), Jesuits
Sparkling wine, white and red wine, fresh orange juice, mineral water, naturally flavoured water, tea, coffee, milk
Contact us to book
Picnic Under the Palms
Thank you for your interest in Belmond.
Prefer to talk? You can call us on +351 291 71 71 71
A Feast of Madeira Legends
Take your place among regal columns, Murano glass chandeliers and sophisticated Edwardian details. This glittering space has hosted equally dazzling personalities, including Winston Churchill and George Bernard Shaw.
Chef Luís Pestana has crafted an exquisite menu evoking the tastes and scents of his childhood. Savour traditional dishes, each reinterpreted with Luís' innovative flair. Embark on a journey across Madeira in flavour form as you revel in the glamour and heritage of the iconic Dining Room.
Available every Tuesday throughout the winter season.
Contact us to book
A Feast of Madeira Legends
Thank you for your interest in Belmond.
Prefer to talk? You can call us on +351 291 71 71 71