VILLAS
Offering unparalleled space and adorned with Inca crafts, these architectural gems embody luxury and sophistication.
Reservations

Gather family and friends for an unforgettable stay at Belmond Hotel Rio Sagrado, the best hotel in Peru for an enchanting group escape.
Villas rise within a stunning riverfront wild flower garden. Spanning two stories, they feature opulent living spaces and beautiful outdoor terraces.
High ceilings and windowed roofs frame surrounding eucalyptus trees and create a dazzling sense of light and space.
Please note: In order to preserve a complete sense of relaxation, Belmond Hotel Rio Sagrado does not offer in-room televisions.
Villa Capuli
Villa Capuli overlooks the Urubamba River and accommodates four to six guests. Three large bedrooms and airy living spaces offer refined, elegant décor.
Spend the days soaking up the beautiful, verdant scenery of the Sacred Valley. As night falls, relax in front of the fire and enjoy pure tranquillity.
Villa Orquidea
With panoramic views of the valley, Villa Orquidea is a beautiful residence that can accommodate four to six guests.
Authentic Andean stonework creates a dramatic setting for evening meals. Enjoy a revitalising shower from one of three bathrooms while still marvelling at the exceptional view.
DETAILS
Three large bedrooms
Full kitchen and dining room
Living room with fireplace
Access to 2,500 m2 wildflower garden
Size: from 220 m2 / 722 ft2
AMENITIES
Three marble bathrooms
Direct dial for international calls
Butler and maid service available on request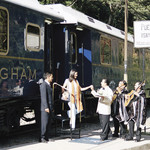 Belmond Hiram Bingham Package
Looking for the best hotel in Peru? Why not embark on a complete Andean adventure. Stay in the Sacred Valley of the Incas, and travel to Machu Picchu on the luxurious Belmond Hiram Bingham train.
Read more and book
COMPARE ACCOMMODATION
Deluxe Terrace Rooms
One king-size or twin queen-size beds
Marble bathroom
Large private terrace
Size: from 42 m2 / 452 ft
Full details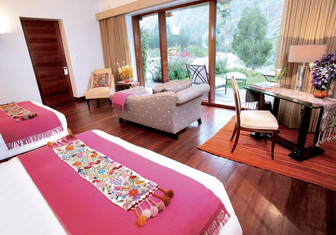 Garden Junior Suites
One king-size or twin queen-size beds
Marble bathroom
Large private terrace with garden
Size: from 92 m2 / 990 ft2
Full details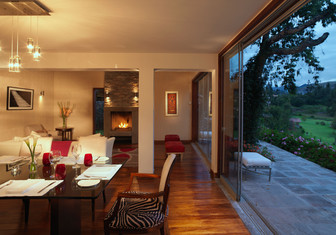 Villas
Three large bedrooms and bathrooms
Full kitchen and dining room
Access to 2,500 m2 wildflower garden
Size: from 220 m2 / 722 ft2