DINING
Discover some of the best restaurants in Peru. Treat yourself to inspired Andean cuisine using the freshest produce from our gardens.
Savour exceptional cuisine heartbeats away from the majestic Urubamba. Restaurant options at Belmond Hotel Rio Sagrado offer something for everyone.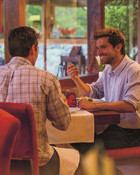 El Huerto Restaurant
The warm glow of candlelight and a refined, sophisticated atmosphere make El Huerto one of the best restaurants in Peru.
A delicious fusion of Urubamba's best-kept culinary secrets and the freshest herbs and spices are combined in local specialities and international delicacies.
Open daily 6am–10pm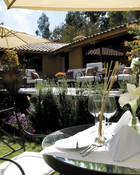 El Jardin
Hidden away from the outside world, El Jardin restaurant is the perfect spot to enjoy a delicious lunch surrounded by the great outdoors.
Select a table in the warm sunlight or the cool leafy shade. Relax to the sounds of birdsong and gently flowing water.
Using the best locally-sourced ingredients, our garden lunches and homemade breads are not to be missed.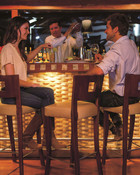 El Bar del Huerto
Overlooking the Urubamba River, El Bar del Huerto serves an internationally renowned selection of wines and spirits in an unbeatable setting.
Savour a cocktail in the charming wood and stone bar. Or sit among the beautiful flora of the main garden and enjoy our attentive table service.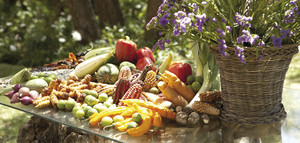 Dating back to the Inca empire, this traditional cooking method uses hot stones in a pit to cook marinated meats and vegetables.
Sample this authentic delicacy yourself, along with a selection of garnishes, drinks and desserts. Available for a minimum of eight guests.
Contact us
Pachamanca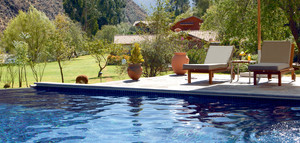 A sensational dining experience, an exclusive tour or a relaxing spa treatment...

Our gift cards may be used towards a variety of services at Belmond Palacio Nazarenas or across our iconic hotels, trains or river cruises worldwide.
Learn more