Sacred Valley, Peru
The Sacred Valley is the former heart of the Inca Empire, starting just 10 miles outside of Cusco. It extends between the towns of Pisac and Ollantaytambo.
The area is jewelled by incomparable Inca ruins, stunning Andean mountain vistas and charming towns.
Rushing through the valley is the Urubamba River, with tributaries in many lakes and gorges. To the north end of the valley is the spectacular Machu Picchu citadel—a must see for visitors to the area.
Getting Here
5 minutes from Urubamba Town (2.5 miles/4km)
15 minutes from Ollantaytambo Train Station (9 miles/15km)
1 hour 10mins from Cusco (45 miles/72km)
1 hour 25 mins from Cusco Airport (48 miles/77km)
1 hour 45 minutes from Machu Picchu (by train)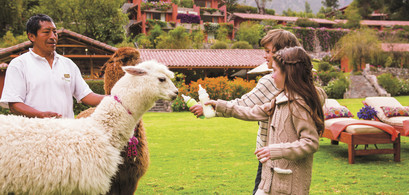 Make the most of your stay in the Sacred Valley with our selection of exclusive activities and excursions.
Find out more