EXCLUSIVE SUITES
Treat yourself, and you'll never want to leave...
Reservations

Please note: the hotel will be closed from 30/10/2017 – 29/03/2018
Reservations: 1 800 237 1236
Go all out on indulgence at the most exclusive luxury hotel Ravello has to offer. With unrivalled sea views, our Exclusive Suites offer complete decadence in picture-perfect Ravello.
Enjoy a leisurely stroll in the private garden, or savour the sweeping panorama from the terrace, complete with sun loungers and dining area.
Exclusive Suites also have a beautifully appointed living area with soft furnishings and unique wall art, complemented by every conceivable modern amenity.
For even more space, two of our Exclusive Suites can be connected to create a stunning two-bedroom suite. It's ideal for families or friends travelling together.
DETAILS
King-size or twin beds
Spacious marble bathroom
Furnished terrace
Private garden
Size: from 90 m2 / 968 ft2
AMENITIES
Butler service
Satellite TV and DVD player
Writing desk
Climate control
Wireless internet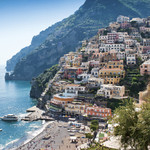 Divine Amalfi Coast
Stay at this timeless Amalfi resort and discover one of the world's most desirable coastal playgrounds…
Read more and book
COMPARE ACCOMMODATION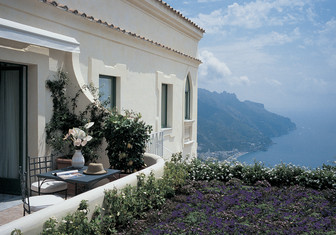 Double Rooms
King-size or twin beds
Spacious marble bathroom
Size: from 35 m2 / 376 ft2
Full details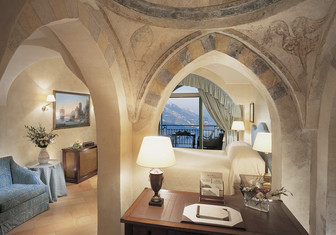 Junior Suites
King-size or twin beds
Spacious marble bathroom
Size: from 45 m2 / 484 ft2
Full details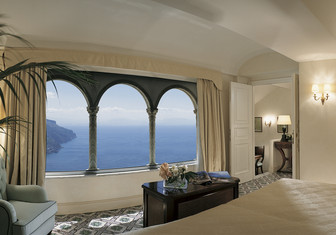 Suites
King-size or twin beds
Spacious marble bathroom
Size: from 55 m2 / 592 ft2
Full details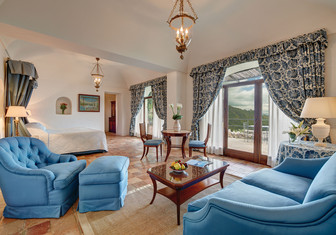 Exclusive Suites
King-size or twin beds
Furnished terrace
Private garden
Size: from 90 m2 / 968 ft2