UNIQUE HISTORIC SUITES
These beautiful, unique spaces evoke turn-of-the-century Tsarist elegance.
Reservations

Our unique historic suites are individually named and themed. They combine contemporary comforts with the old-world elegance befitting one of the most iconic hotels in Russia.
Located on the Historic Floor, each room benefits from high ceilings, restored antiques, Italian marble bathrooms and dedicated butler service.
Dostoevsky Suite - Historic One Bedroom Suite
The literary genius Fyodor Dostoevsky was a frequent guest of Belmond Grand Hotel Europe.
Fans of Crime and Punishment and The Brothers Karamazov will note that this is a corner suite. The author and many of his characters lived in corner rooms, as they were perfect for observing life outside.
Imperial Yacht Suite - Historic One Bedroom Suite
In 1871, Tsar Alexander II launched the royal yacht Derzhava. Those lucky enough to step aboard were captivated by its unprecedented opulence.
This suite, decorated in fresh, nautical colours, tells the story of the exceptional ship, evoking the lifestyle of those who sailed with her.
Fabergé Suite - Historic One Bedroom Suite
Carl Fabergé, goldsmith to the Romanovs, is today renowned as one of the greatest jewellers of all time.
This suite is swathed in pink, lilac and gold tones to reflect the precious stones and metals found in his works. Antique pieces, evocative of the turn-of-the-century, complete the elegant atmosphere. The result is a perfect sanctuary for a unique luxury honeymoon.
Mariinsky Suite - Historic One Bedroom Suite
Decorated in the light blue tones also found inside the Mariinsky Theatre, this suite has a wonderfully theatrical ambience. Fans of dance and music will adore the artwork, which brings to life great moments and personalities from St Petersburg's cultural scene.
Romanov Suite - Historic One Bedroom Suite
Members of the Imperial Russian dynasty regularly visited Belmond Grand Hotel Europe. The last emperor, Nicholas II, held many diplomatic receptions here.
The suite named for the Romanov rulers has a suitably palatial atmosphere. Decorated with antique furniture featuring rich, gold ornamentation, delicate chandeliers and portraits of Russian nobility, the suite is fit for a Tsar.
Rossi Suite - Historic One Bedroom Suite
The celebrated Italian architect Carlo Rossi designed many of the buildings that give St Petersburg its allure. The façade of Belmond Grand Hotel Europe and the ensemble of Arts Square are among his many achievements.
This suite is decorated in classic white and yellow—the colours that grace so many of his masterpieces around the city. Its clean lines reflect the skilful way in which he combined Empire grandeur with elegant simplicity.
Amber Suite - Historic One Bedroom Suite
This rich, warm-hued suite takes its name from the famous Amber Room at Catherine Palace. The suite's living room is decorated with a reproduction of the cartouche featuring the initials of King Friedrich Willhelm of Prussia.
Stravinsky Suite - Deluxe Historic One Bedroom Suite
One of our Historic Executive Suites, this suite is dedicated to the great composer Igor Fyodorovich Stravinsky. When he returned to Russia after living overseas for 48 years, Belmond Grand Hotel Europe was his first port of call.
Inspired by his revolutionary composition The Rite of Spring, the suite is decorated in fresh, joyful hues of leaf green.
Pavarotti Suite - Deluxe Historic One Bedroom Suite
The celebrated Italian tenor stayed in this suite during his 2004 tour of Russia. Its interior evokes the world's finest opera houses, and the bold, red and gold colour scheme reflects Pavarotti's dynamic presence.
The walls are decorated with photographs of the maestro with other well-known personalities.
Lidval Suite - Deluxe Historic One Bedroom Suite
Fyodor Ivanovich Lidval was one of the greatest early 20th-century architects to work in St Petersburg. A master of the art nouveau style, Lidval helped to redesign Belmond Grand Hotel Europe's interiors between 1908 and 1914.
This suite features a large living room with a winter garden on an intimate, glass-covered veranda. Beautifully-restored stucco adorns the room's walls. The spacious bathroom features marble and contrasting lacquered wood.
DETAILS
All suites are non-smoking
King-size or twin beds
Marble bathroom with separate bath and shower
Kitchenette
Spacious lounge
Size: from 47 m2 / 505 ft2
AMENITIES
LCD TV and DVD player
Two telephones with voicemail
Writing desk
Wireless internet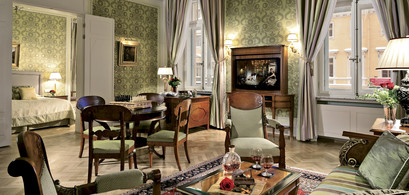 Your personal hideaway awaits. Download our brochure and find out more about our stunning selection of suites.
Download
COMPARE ACCOMMODATION
Rooms
King-size or twin beds
Bathroom
Large writing desk
Size: from 23 m2 / 247 ft2
Full details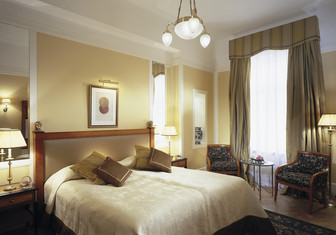 Suites
King-size or twin beds
Marble bathroom
Spacious sitting area
Size: from 40 m2 / 430 ft2
Full details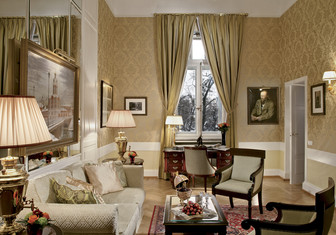 Unique Historic Suites
King-size or twin beds
Marble bathroom with separate bath and shower
Kitchenette
Spacious lounge
Size: from 47 m2 / 505 ft2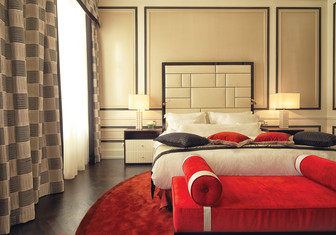 Avant-Garde Suites
King-size beds
Marble bathroom with separate bath and shower
Inspired by Russian avant-garde artists
Additional seating area
Size: from 55 m2 / 592 ft2
Full details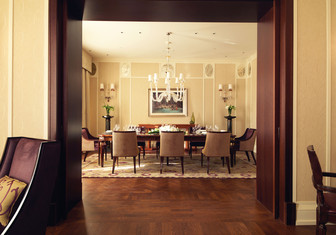 Presidential Suite
Two bedrooms with king-size beds
Marble bathrooms, personal sauna and lounge bar
Dining area and lounge
Size: 350 m2 / 3767 ft2
Full details