PRESIDENTIAL SUITE
Live and breathe the spirit of Russia in the city's largest and most magnificent suite.
Occupying a corner of one of St Petersburg's most luxurious hotels, the two-bedroom Presidential Suite is the grandest suite in the city. Views across both Nevsky Prospekt and Mikhailovskaya Ulitsa are sure to capture your imagination.
Enjoy privately cooked lunches and dinners in a personal dining room, seating eight guests. You can also make use of an exclusive fitness centre and a music room featuring a grand piano.
Other highlights include a personal sauna, a lounge bar and a combined library and study.
The guest bedroom can be used as a lock-out room for accompanying staff or security.
DETAILS
Suite is non-smoking
Two bedrooms with king-size beds
Marble bathrooms and sauna
Dining area and lounge
Size: 350 m2 / 3767 ft2
AMENITIES
Music room with grand piano
Exclusive fitness centre
Lounge bar
Combined library and study
Wireless internet
Dining Experience
Stay at Belmond Grand Hotel Europe to experience great dining from around the world.
Read more and book
Contact Information
Belmond Grand Hotel Europe
Nevsky Prospekt
Mikhailovskaya Ulitsa 1/7
191186 St Petersburg
Russia
The Hotel: +7 812 329 6000

Your personal hideaway awaits. Download our brochure and find out more about our stunning selection of suites.
Download
COMPARE ACCOMMODATION
Rooms
King-size or twin beds
Bathroom
Large writing desk
Size: from 23 m2 / 247 ft2
Full details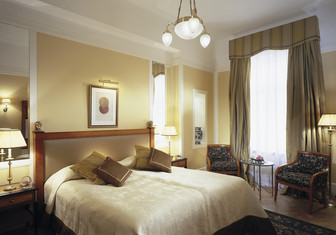 Suites
King-size or twin beds
Marble bathroom
Spacious sitting area
Size: from 40 m2 / 430 ft2
Full details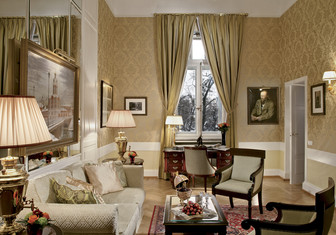 Unique Historic Suites
King-size or twin beds
Marble bathroom with separate bath and shower
Kitchenette
Spacious lounge
Size: from 47 m2 / 505 ft2
Full details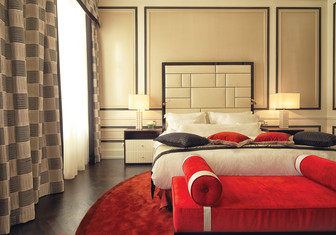 Avant-Garde Suites
King-size beds
Marble bathroom with separate bath and shower
Inspired by Russian avant-garde artists
Additional seating area
Size: from 55 m2 / 592 ft2
Full details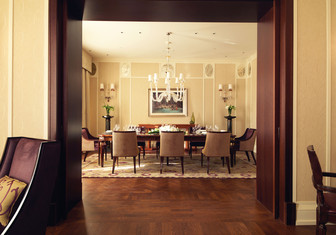 Presidential Suite
Two bedrooms with king-size beds
Marble bathrooms, personal sauna and lounge bar
Dining area and lounge
Size: 350 m2 / 3767 ft2