AVANT-GARDE SUITES
Discover a modern classic within one of the top luxury hotels in Europe. These dazzling suites celebrate the lives and works of Russian avant-garde artists.
Reservations

Each Avant-Garde Suite is a sophisticated and modern space in this historic five-star hotel. Rooms are designed to evoke the works of their namesake artists, while butler service and sensational views add to the indulgence. Most suites also feature a spacious sitting room with dining table and a personal entrance hall.
Malevich Suite - Deluxe Avant-Garde One Bedroom Suite
Kazimir Malevich was a pioneer of geometric abstract art and founder of the suprematist movement.
His striking shapes and bold colours are reflected in the design of the suite. As well as a dining table for six, it offers a guest powder room and wet bar.
Archipenko Suite - Deluxe Avant-Garde One Bedroom Suite
The sensual lines and warm tones of the one-bedroom suite echo the work of cubist sculptor Alexander Archipenko.
The space boasts a sitting room with a dining table for four as well as a full pantry and guest powder room.
Kandinsky Suite - Deluxe Avant-Garde One Bedroom Suite
The influential Russian artist Wassily Kandinsky is often credited with painting the first purely abstract works.
His love of bright colours and earthy tones is evident in this large one-bedroom suite. It also benefits from separate living and dining rooms as well as a personal study.
Rodchenko Suite - Avant-Garde Studio Suite
Alexander Rodchenko was a founder of Russian constructivism. He is famed for his bold political posters and innovative advert and magazine design.
His play of geometric shapes against a white background has influenced this junior suite.
Lissitsky Suite - Avant-Garde One Bedroom Suite
El Lissitsky worked in many artistic fields, designing exhibitions and propaganda for the Soviet Union. His work inspired the graphic lines, bold colours and modern touches of this suite.
It can be combined with the Rodchenko Suite to form a two-bedroom retreat. On its own, it boasts a dining table for four, a walk-in closet, a guest powder room and wet bar.
DETAILS
All suites are non-smoking
King-size beds
Marble bathroom with separate bath and shower
Additional seating area
Size: from 55 m2 / 592 ft2
AMENITIES
LCD TV and DVD player
Two telephones with voicemail
Writing desk
Wireless internet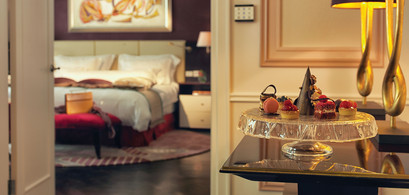 Your personal hideaway awaits. Download our brochure and find out more about our stunning selection of suites.
Download
COMPARE ACCOMMODATION
Rooms
King-size or twin beds
Bathroom
Large writing desk
Size: from 23 m2 / 247 ft2
Full details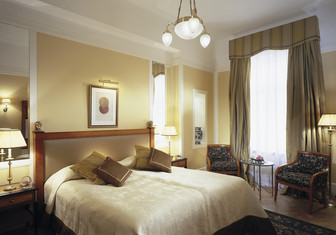 Suites
King-size or twin beds
Marble bathroom
Spacious sitting area
Size: from 40 m2 / 430 ft2
Full details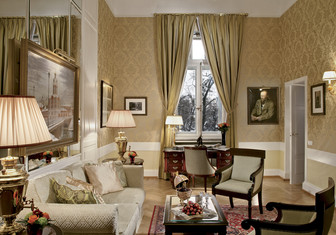 Unique Historic Suites
King-size or twin beds
Marble bathroom with separate bath and shower
Kitchenette
Spacious lounge
Size: from 47 m2 / 505 ft2
Full details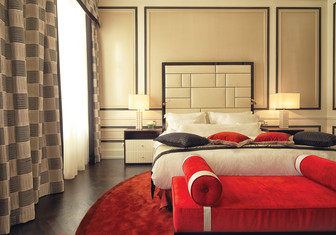 Avant-Garde Suites
King-size beds
Marble bathroom with separate bath and shower
Inspired by Russian avant-garde artists
Additional seating area
Size: from 55 m2 / 592 ft2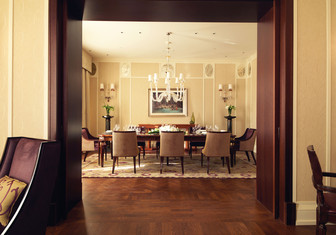 Presidential Suite
Two bedrooms with king-size beds
Marble bathrooms, personal sauna and lounge bar
Dining area and lounge
Size: 350 m2 / 3767 ft2
Full details