DINING
With cuisine rivalling the best restaurants in Dublin, dining aboard the Belmond Grand Hibernian is a true taste sensation.
An experience not to be missed for the seasoned foodie, vacations aboard showcase exceptional and authentically Irish fare.
From wonderful artisan cheeses and superb smoked fish to the freshest seasonal vegetables, the onboard menus feature the finest ingredients from the regions the train travels through.
The chef and his team serve breakfasts, lunches and dinners in two air-conditioned dining carriages named after Irish counties.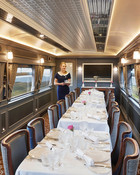 Sligo
Sligo is an elegant restaurant car arranged in tables of four, with sleek silver accents and chrome finishes.
It is softened by Waterford crystal vases, relaxed greys and warm woods to give a contemporary Georgian feel.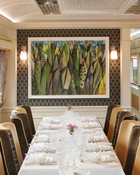 Wexford
Wexford is a light-filled space, enhanced with Irish tweeds and celtic motifs.
Seating guests at tables of six, it's the perfect place to trade stories with your fellow travellers while savouring the cuisine.
Plan your Journey