DINING
Dine in style and experience the exotic delicacies of Myanmar.
Belmond Governor's Residence offers some of the finest bars and restaurants in Yangon, with something for every taste.
Mandalay Restaurant
Enjoy the exotic, local cuisine of Myanmar, with its subtly blended spice, or select from a wide selection of European specialities. Mandalay Restaurant benefits from a romantic location, surrounded by tropical gardens and lotus ponds.
Download menus:
Lunch | Dinner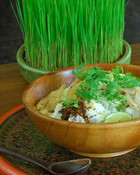 Burmese Curry Table
Fragrant local curries, vegetables and rice are served buffet style over authentic charcoal burners. Enjoy fresh and spicy salads with ice-cold draught beer and delicate Burmese green tea. Set in a spacious lounge, the restaurant boasts stunning views across the hotel's gardens and ponds.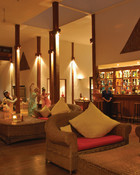 Mindon Lounge
The open-air Mindon Lounge is the perfect place to spend a relaxing evening. From light refreshments to cooling cocktails, the shaded garden area entices you to sample the exotic delicacies of Myanmar.
Kipling Bar

Named after Rudyard Kipling, the bar offers a relaxing atmosphere in which to sample fine wines, signature cocktails, or high-quality teas and coffee.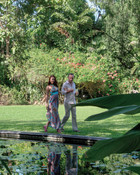 BELMOND GIFT CARDS
A sensational dining experience, an exclusive tour or a relaxing spa treatment...
Our gift cards may be used towards a variety of services at Belmond Governor's Residence or across our iconic hotels, trains or river cruises worldwide.
Learn more
Delight in the tastes of Yangon with this mouth-watering gastronomic package.
Includes:
Luxury accommodation
Daily lunch and dinner for two at Mandalay Restaurant or the Burmese Curry Table, including soft drinks, beer and house wine
and more...
Select dates