Thursday, May 15, 2014
6:00 - 9:00 pm
Poolside at The Spa
Join us for a summer fashion show with cocktails, music and more all enjoyed poolside at The Spa at Belmond Charleston Place. All proceeds from this high-fashion event will benefit the MUSC Foundation for skin cancer research.
Swimwear provided by Everything But Water and Tommy Bahama
Stylists:
Amanda Greeley - Tink + Tiger
Andrea Serrano - Charleston Shop Curator
Ayoka Lucas - StylePublic
Chassity Evans - Look Linger Love
Deirdre Zahl - Candy Shop Vintage
George Ackerman - 79 Ashley
Lauren Lail - Library by Lauren Lail
Lindsey Carter - Troubadour Clothing
Olivia Brock - Lacquered Life
Stacy Smallwood - Hampden Clothing
Music: DJ Tay 'Party Dad'
Photographer: Charlotte Elizabeth
Emcee: Stacy Smallwood
Hair & Makeup Team: Article 5 and Ashley Brook Perryman
And a special thank you to our Sponsors: Chandon, Charleston Battery, Little Black Book, Mclean Sheperd, MD and Southern Eagle
Tickets are $40 in advance, $50 at the door. You can purchase tickets below using Paypal or call The Spa at 843.937.8522.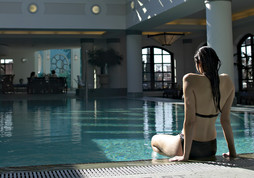 Join us in the fight to increase awareness of—and help prevent—skin cancer.
Learn More